Schumer's Senate Majority Is Already In Trouble – Poll Shows Dems Could Lose Seat In New Hampshire In 2022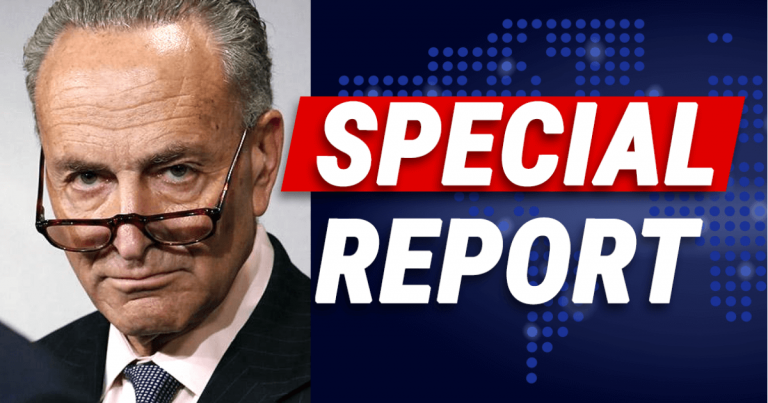 What's Happening:
Democrats are trying to ram through their agenda in record time. Wonder why?
Because Biden, Pelosi, and Schumer know they hold a majority at a hair's breadth. The House is just a few seats away from flipping (they lost seats in 2020, after all).
And the Senate is far from being a liberal stronghold. With a 50/50 split, even a single lost seat would give Republicans the edge.
The sooner they can cram their legislation down our throats, the better for them. But one poll is revealing they might have already lost.
From Conservative Brief:
A brand-new poll from the University of New Hampshire Survey Center found that one race in the 2022 election could determine which party controls the U.S. Senate — and the GOP has a strong chance of winning it.

Republican Gov. Chris Sununu of New Hampshire holds a 48% to 46% advantage over Democratic Sen. Maggie Hassan in a hypothetical 2022 general election showdown.
Why It's Important:
A new poll reveals that the Republican Governor of New Hampshire has a lead over sitting Democratic Sen. Hassan.
Chris Sununu won re-election as governor in 2020, to a third two-year term. The governor appears popular in his state. And by 2022, he will be free to search for a new job.
The hypothetical poll shows that he has a slim lead over the Democrat. That's before he's officially announced a campaign!
Imagine what might happen if Sununu actually does run, launch a campaign, and work to win over voters?
(These are the same voters who overwhelmingly elected him to the governor's office, after all.)
Democrats in Congress know they are in a tough spot. With a majority, and a policy of ramming their agenda through, they can't blame Republicans for anything over the next two years.
Whatever comes, good or bad, they have to own. By forcing their $1.9 trillion COVID budget through, they are sealing their fate.
Nobody can blame the right when jobs disappear, taxes soar, and migrants flood the border. Democrats will have to take the brunt for everything that happens–meaning they will have a hard fight going into 2022.
I wonder how many other Democrats in the House and Senate will face troubling polls like this one?
Key Takeaways:
A new poll from New Hampshire suggests one Senate seat can be flipped.
Newly re-elected Gov. Sununu is leading Hassan by two points.
Democrats can easily lose their majority in the 2022 midterms.
Source: Conservative Brief