After Schumer Tries To Block Trump On The Border, Donald Ends Chuck With 10-Figure Deal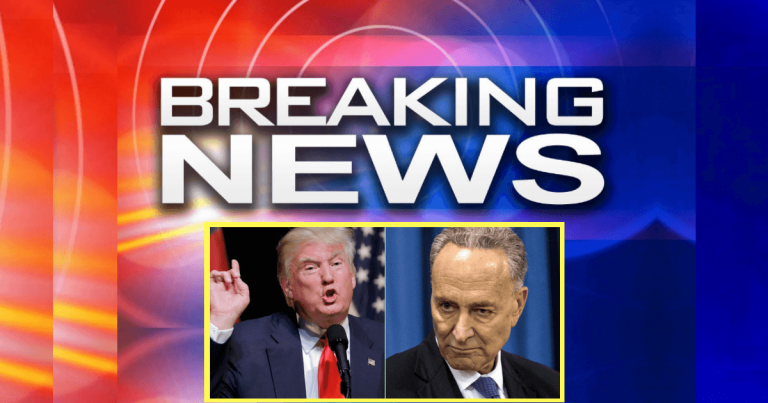 Chuck Schumer never saw 'The Donald' coming.
We've watched as Democrats in Congress ignored the problems at the border, but Trump hasn't given up.
You probably agree that the issues would have been settled by now—if they stepped up and worked with the President.
Instead, Chuck Schumer and his party stood in his way as the situation deteriorated, even watching Mexico do more for American than them.
The president has hammered them with the message for weeks, and it finally must be getting through. Why?
Because Schumer just agreed to a big border request.
From CNN:
The top two appropriators in the US Senate have reached an agreement on a $4.6 billion funding package to address the influx of migrants at the southern border that has been deemed a "humanitarian crisis,"…
Wow. According to reports, two appropriators in the Senate have reached a deal for $4.6 billion to address the border situation. CNN must have hated reporting that.
$4,600,000,000. Ten figures going to border security!
It looks like Chuck Schumer is finally losing the border war he has been fighting on Capitol Hill.
The resources to stop and return people at the border is running out. This new deal will provide a big boost to the president's efforts to protect the border and end this ongoing problem.
Not much has been said about if some of this money will go to build the wall—the main deterrent that will fix our problems.
But it has been said the Senate Majority Leader Mitch McConnell will put this plan to the Senate for by end of next week.
The last hurdle would be Democrats in the House—who continue to refuse to fund border security.
Do they not know about the problems at the border? Or do they simply not care?
They need to pass this bill, or our Border Patrol will run reportedly run out of funds in just days.
Trump needs your help to get this over the finish line.
SHARE to tell Congress to pass this measure once and for all!
Source: CNN