After Scott Calls Out Pelosi For 'Heinous' Statement – Nancy Gets Chance To Apologize, But Says "Absolutely Not"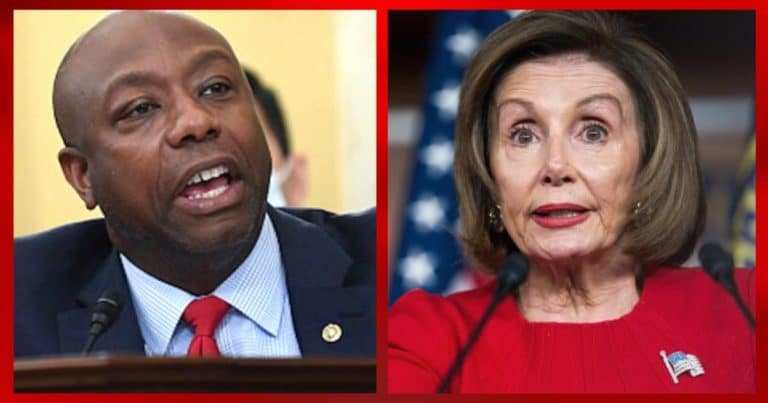 Despite efforts by Republican Sen. Tim Scott to craft a police reform bill, Speaker Nancy Pelosi accused Republicans of "trying to get away with" the murder of George Floyd.
This comes after House Democrats refused input from Republicans in crafting their own bill.
The senator called out Pelosi's comments, calling on her to apologize. Pelosi appeared on MSNBC to discuss the controversy. But she refused to apologize.
On Wednesday, House Speaker Nancy Pelosi appeared on MSNBC, where she was given the opportunity to apologize for her outrageous remark on Tuesday saying Senate Republicans were "trying to get away with murder, actually, the murder of George Floyd.'

Pelosi refused.
Nancy Pelosi asked if she will apologize for her despicable comment that Senate Republicans are "trying to get away with murder, actually — the murder of George Floyd."

Pelosi: Absolutely, positively not. pic.twitter.com/GXo5pt2rNh

— America Rising (@AmericaRising) June 24, 2020
Why is her response so important in this current situation?
There appears to be a contrast between how Republicans and Democrats are responding to George Floyd's death. In the wake of ongoing protests and riots, both parties have vowed to "make changes."
But while President Trump signed an executive order to reform police departments and Senate Republicans sought bipartisan support for a bill, Democrats appear to be doing very little.
State and local Democrats seem willing to appease rioters by refusing to condemn the violence and agreeing to remove historical monuments.
Speaker Pelosi and House Democrats rushed out a bill but rejected input from their conservative colleagues. Her rhetoric that Republicans are "getting away" with murder appear tone-deaf and irrational, given Republicans' efforts.
Many have called out her statement, saying it went beyond normal political hectoring.
Even the left-leaning MSNBC gave her a chance to take her words back. Yet the speaker refused, only reaffirming her wild claims. Senate Democrats then blocked Tim Scott's police reform bill, with little explanation.
It appears Democrats are unwilling to offer bipartisan support in the months leading to the election. So, who is really dividing the country?
Key Takeaways:
Tim Scott called on Pelosi to apologize for her "murder" comments.
Pelosi appeared on MSNBC, refusing to apologize.
Democrats appear to be blaming Republicans for George Floyd's death, though they refuse to work with them to find reforms.
Source: Daily Wire