Supreme Court Hands Trump Sweet Victory – Puts America First In Line Instead Of Last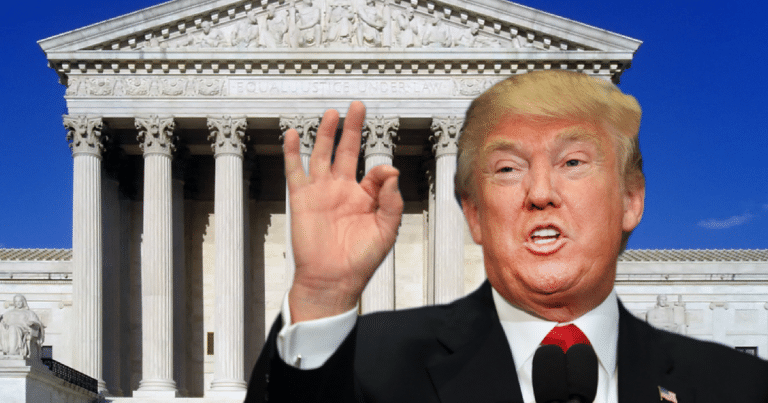 When Trump said he was putting American business first, he meant it.
The Supreme Court doesn't always support a President's decision.
And there have been several cases during the Trump administration where the highest court in the land disagreed with our Commander-in-Chief.
But not this time.
Last year, Donald Trump passed a 25% steel tariff on imported Chinese steel. The goal was to help American steelworkers compete with cheaply-made foreign imports.
Democrats were upset and tried to sue to block these tariffs – and they took that fight all the way to the Supreme Court.
However, they've been dealt a major defeat.
From Fox Business:
"The U.S. Supreme Court refused Monday to rule on a case challenging President Trump's 25 percent tariffs on steel imports into the U.S. that was imposed last year.

The decision … will leave in place the U.S. Court of International Trade's ruling from March that allowed the president's tariffs."
Yes, the good results are in:
The Supreme Court backed Trump's tariffs by not bothering to hear the Democrats' case. That means his tariffs will stand.
Furthermore, it falls in line with Trump's "Keep America Great" and "America First" slogans, which every patriot should support.
In the end, this is a major victory for American businesses!
For far too long, China and other foreign counties have undercut our industries; they've flooded our markets with cheaply-made, inferior products.
That includes steel, of course. Companies would buy the cheap stuff from China, instead of quality steel from American companies.
Trump simply leveled the playing field by making China's cheap steel more expensive in the U.S. So now, companies have no reason to ignore American steel.
The President's message is clear: here, Americans come FIRST!
Source: Fox Business