Days After Anarchists Take Over Seattle Downtown, Video Captures Flag-Waving Americans Harrassed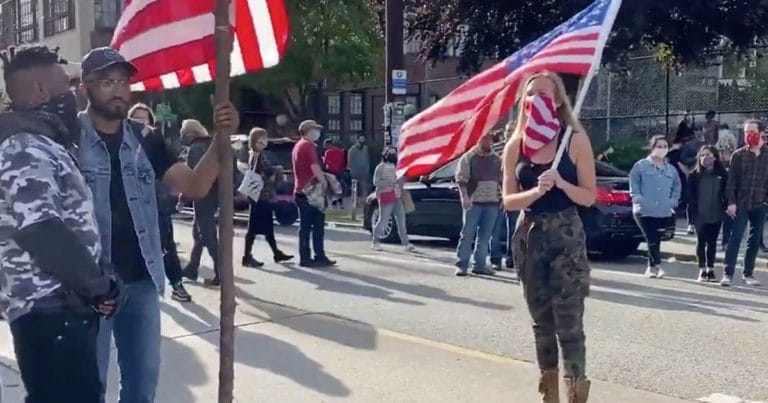 A six-block section of Seattle has been taken over by anarchists. Driving out the police, they call it CHAZ: "Capitol Hill Autonomous Zone."
Those who run this region consider it independent of the United States, though they struggle to acquire basics like food.
Residents outrage by this act of lawlessness decided to take a stand. A group of them visited the site and marched through it with American flags:
Flag-bearing Americans caused an uproar within Seattle's "Capitol Hill Autonomous Zone" (CHAZ) as they tried to enter the area to protest Saturday afternoon, according to Daily Caller reporters on the ground…

"We're standing up for our freedoms as Americans. This is America, this is not CHAZ," Daviscourt, the Washington/Oregon representative for Turning Point USA, told people as they marched around the perimeter of the commune.
The moment the American flag was stolen from inside the autonomous zone: pic.twitter.com/6dFtDAWINf

— Richie🎥McG🍿 (@RichieMcGinniss) June 14, 2020
The "founders" of CHAZ chased out the demonstrators. They stole their flags, threw liquid on them, and showed clear hostility.
Why is their bold move to bring the American flag into CHAZ so important?
The mayor of Seattle has called CHAZ a "block party" and compared it to the Summer of Love. The actions of those within do not appear to be those of partygoers or peace-loving hippies.
They were clearly outraged that a group of Americans would march through their zone with symbols of our country.
According to reporters, CHAZ is unstable and might be unraveling quickly. They have trouble acquiring food and keeping the peace.
Armed gunmen patrol the area, quick to accost anyone who wishes to move in and out of the area.
They have harassed local businesses, residents, even Uber drivers. Attempts to grow food and maintain order seems outside their ability.
Unless the city leaders bring this to a quick end, the results of this autonomous zone might be dire.
Key Takeaways:
Anarchists control a region of Seattle called "CHAZ," driving out the police and law.
Patriots attempted to march through it with American flags, only to be attacked.
Conditions within the zone appear to be deteriorating, with signs it might be worse.
Source: Daily Caller