Republican Leader Proposes Fix To Biden's Supply Crisis – Sen. Hawley Reveals "Make In America To Sell In America"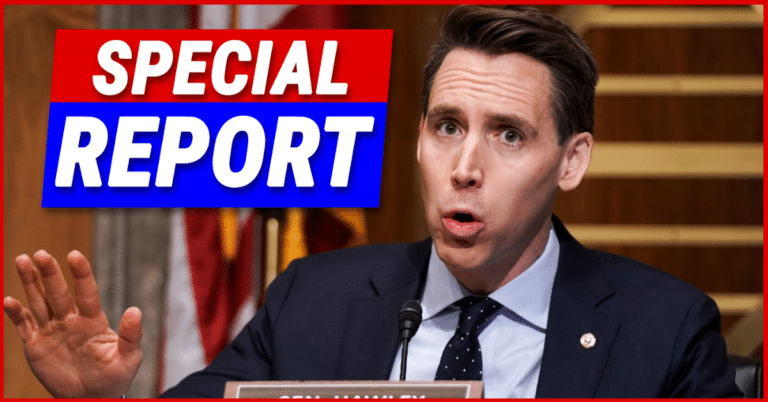 What's Happening:
Americans watch as Biden struggles to fix even simple problems. The supply chain crisis is largely due to red tape and bad policy. We can't help but imagine Donald Trump, if he were in office, would have fixed this immediately.
But Biden sat back until the problem could not be ignored. His transportation chief went on vacation as the crisis exploded. Now, Biden and his cronies can't even figure out how to offload ships and get products moving. So, an America-First Republican is coming up with a solution for him.
From Breitbart:
Sen. Josh Hawley (R-MO) introduced a bill to curb President Joe Biden's supply crisis to "revitalize American manufacturing while securing critical supply chains."

Hawley's bill — Make in America to Sell in America Act — would require multinational corporations within the United States to increase the production of goods in the U.S. in order to sell within the U.S. The senator's bill would help end the country's overreliance on foreign factories and provide a check to make sure a supply chain crisis, which the country is currently in, does not happen again.
Sen. Hawley has introduced a bill to address the supply chain crisis that is refreshingly simple, yet appears will be very effective. The bill will require companies to increase the production of goods in the U.S. to sell to the U.S. It would eliminate the major cause of the supply chain crisis—importing goods from overseas.
This bill, if passed, would bypass many of the problems hitting the country right now. Instead of relying on ships to unload their product and ship it to stores and businesses, the goods would be made right in the U.S. That would make it much easier to transport goods.
Factories can ensure product is provided in nearby communities and cities, alleviating even the truck lines.
This is the second time we've seen Republicans stepping up to fix Biden's messes. Florida Gov. Ron DeSantis offered the first solution to this crisis. He announced Florida's ports were open to receive new shipments from Europe. There are hundreds of ports in the Sunshine State that already work around the clock, and millions of consumers nearby are ready to buy.
How many times do Republicans need to step in and save Biden's bacon? We'd say they are better off doing nothing and forcing Biden to suffer the consequences. But the reality is, millions of Americans would suffer as a result. So, Republicans are stepping in and trying to offer solutions, putting aside their partisan fighting to get this done.
However, it is uncertain if Hawley's bill has a chance of passing. Democrats control the House and the Senate. Will they put aside their partisan ways to support this bill?
Key Takeaways:
Hawley introduced a bill to relieve the ongoing supply chain crisis.
It would require major companies to produce goods in America and sell within the country.
This comes as Biden's supply chain crisis grows worse and worse.
Source: Breitbart