After Sessions And Omar Get Into Twitter Battle – Jeff Ends It With Question About Her 'Brother'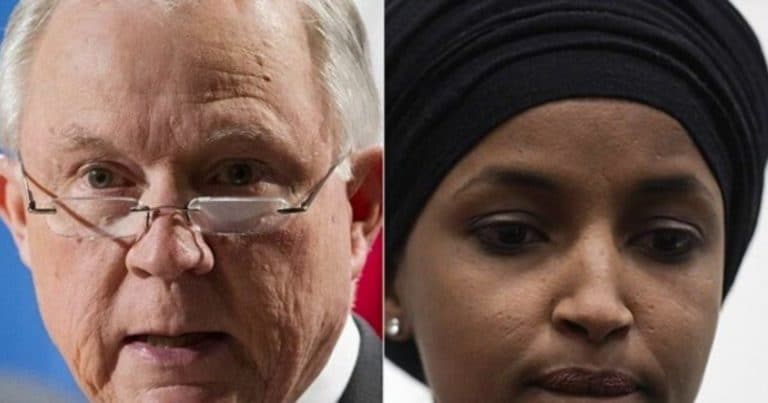 Jeff Sessions might be on the outs with Trump and his supporters, but he just showed America that he can still fight fire with fire.
Democrat Ilhan Omar is backing the "defund the police" movement in Minneapolis. Sessions decided to call her out with support for law and order.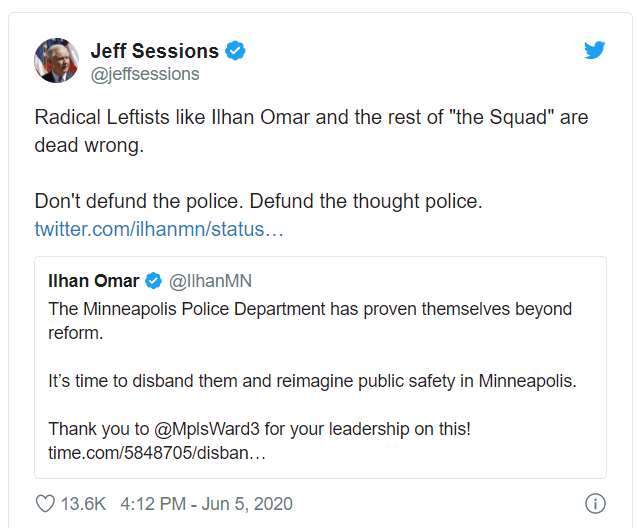 The exchange escalated until Session played his trump card.
From Western Journal:
In a Twitter exchange Friday with the firebrand Minnesota Democrat, Sessions excoriated Omar for suggesting the Minneapolis Police Department needed to be disbanded, tussled with her over remarks they'd made in the past and concluded by saying, "How's your brother, by the way?" — an allusion to reports that Omar engaged in a sham marriage with her brother in order to commit immigration fraud.
Sessions called out Omar for supporting the eradication of our police forces and, by extension, law and order.
Omar fired back. The two had a war of words until Sessions dropped the bomb on her, "How's your brother, by the way?"
This is a clear reference to the ongoing rumors that Omar married her brother in order to cheat the immigration system.
Our Take:
We shouldn't be surprised to see a radical, left-wing activist like Omar is backing a proposal as dumb as defunding the police.
This woman, like so many other Democrats, appears to want lawlessness over peace and justice.
It's a bit of a surprise that, of all people to jump into the fray, Jeff Sessions went after Omar.
They don't have much of a history together. But, keep in mind, Sessions was once the chief prosecutor of the country. This is the former Attorney General of the United States.
And believe me when I say, he won't tolerate a notion as absurd as "defund the police."
We don't need to bother with the petty jabs a socialist like Omar threw at him. It's the same, tired rhetoric the Democrats have been spewing for years.
But Sessions' comeback is brutal. It's a painful reminder to Omar that she just might not be here legally. And perhaps the real reason she's so determined to undermine our law and order.
Sessions isn't afraid to go there in order to point out Omar's shady history with obeying the law. It's possible she got here illegally—now she wants to make it so anyone can break the law… with no consequences.
Good old Jeff had every right to fire back.
SHARE to show everyone how Sessions burned Omar.
Source: Western Journal