Protesters Cross The Line With Their Own Democrat Sinema – They Follow The Senator Into Women's Bathroom, She Responds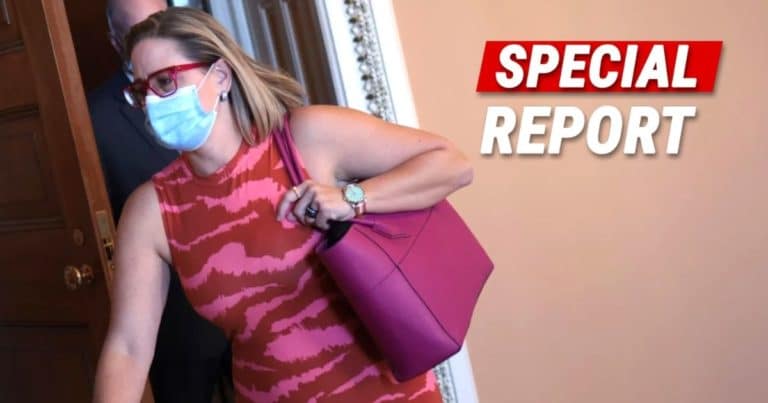 What's Happening:
Democrats are growing desperate to pass their radical spending bill. And it seems like there's nothing they won't do to get their way. No Republican lawmaker is willing to vote for Biden's $3.5 trillion socialist takeover of the economy. But two moderate Democrats are standing in the left's way as well.
Biden failed to coerce Sens. Joe Manchin and Kyrsten Sinema to support his bloated, high-tax bill. Leftist groups launched their own campaigns to sway them. Apparently, that didn't work—so they resort to cheap, thug-like tactics against Sen. Sinema.
From Fox News:
The activists first confronted Sinema at her ASU classroom, then followed her down the hall as the senator went into the bathroom and shut the door of a stall. Nevertheless, the activists continued to voice their demands from inside the bathroom, including a demand that she support President Biden's "Build Back Better" agenda and legislation that would provide a pathway to citizenship for illegal migrants.
Outrage broke out that leftist activists would harass a senator in the bathroom. Now, the woman herself is speaking out.
From Twitter:
Statement Following Events at ASU on Sunday pic.twitter.com/4d3BF9P8CO

— Kyrsten Sinema (@SenatorSinema) October 4, 2021
Statement Following Events at ASU on Sunday
Sen. Sinema blasted those activists who entered the ASU grounds "deceptively" and proceeded to violate the rights of herself and her students. The senator, who had previously worked with the group these people represent, chastised them for allowing this kind of behavior.
It's interesting to note that the senator did not speak much about her own personal reaction to the harassment. Instead, she stood up for her students, whom she believes were unfairly treated by these activists.
It certainly appears that Sinema is taking the high road, not thinking of herself but only of students. Her reaction, however, proves that these activists will not get what they want.
Sadly, when Biden was asked by Pater Doocy about the situation, he called it inappropriate, but then said it happens and is "a part of the process."
A part of the process? You can't even defend your own if they disagree with you on socialism?
Why did these leftists think that harassing a senator and her students was going to work? Bully tactics like this would only make her more dedicated to her convictions. In fact, this gives her a perfect excuse to resist pressure to support Biden's bill.
But we shouldn't be surprised leftists did this. All last year, radical activists were praised for throwing a giant temper tantrum all across the country. They rioted, looted, and burned down cities. And most liberals loved it.
No wonder they tried a similar, hostile approach with Sinema. But it looks like it backfired, big time.
Key Takeaways:
A group of activists harassed Sen. Sinema, following her into a bathroom.
The backlash of the event was fierce, from both Republicans and Democrats.
Sinema posted a response, blasting the group who allowed the event.