Supreme Court Gets Big Boost from Small Businesses – They Slam Biden's Worst Decision Yet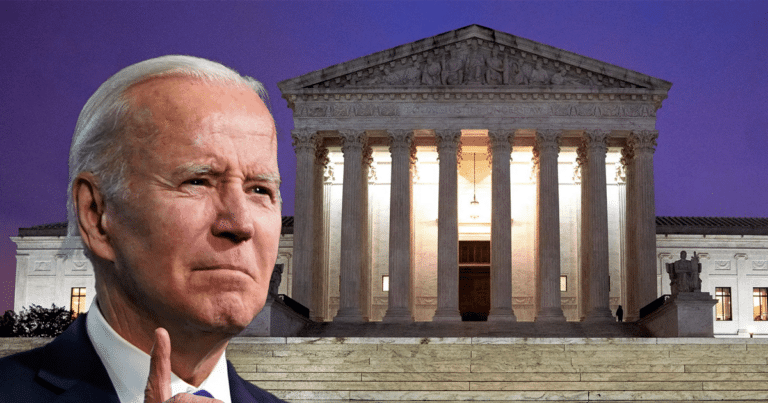 What's Happening:
The Supreme Court has issued history-making rulings over the summer. Democrats are outraged over these decisions. But nobody has lost more than Joe Biden. This failed president has seen major parts of his socialist agenda go up in smoke, thanks to the decisions of the highest court.
The SCOTUS has ruled against several of the left's holy grails, including affirmative action and LGBT "rights." But one of their latest decisions just saved millions of Americans billions in taxes. A poll came out gauging what small businesses thought of this move. And they are giving Joe Biden a big, fat "F."
From Breitbart:
Mere weeks after the U.S. Supreme Court struck down President Joe Biden's student loan forgiveness bailout scheme — ending a roughly $430 billion debt write-off — a Job Creators Network Small Business survey found that 73 percent of U.S. small business owners oppose the now-deemed unconstitutional plan…

"The good news is the Supreme Court recently dealt a blow to government overreach by striking down the White House's student loan bailout—a decision that more than 70 percent of entrepreneurs agree with."
Boom! Joe Biden just got a failing grade from small businesses across America. According to a new Job Creators Network poll, about 73% of small business owners hated Biden's attempt to buy votes–I mean, "forgive" student loan debt.
Biden's "plan" was to cancel the debt millions of students incurred by taking loans to pay for college tuition. In fact, Biden even promised to give college graduations cash, if they had actually bothered to pay back their loans!
Many saw this as a clear attempt at bribing students for votes, as Biden announced this scheme weeks before the 2022 midterms. Conservative estimates had this plan costing taxpayers $430 billion. But, as with all estimates related to government spending, it would have cost Americans much more.
The Supreme Court ruled that Biden violated the law because he refused to go through Congress to make this move. Congress holds the country's purse strings, so to speak. Yet Biden thought he could spend hundreds of billions of dollars, without Congress's approval.
It seems small business owners, who struggle to make ends meet even at the best of times, didn't appreciate having another tax burden fall on their shoulders. Spoiled college students would have gotten a free ride, as working Americans carried the load. Pretty socialist of Joe, huh, make the rich profit off the working man?
Good thing it's dead.
Key Takeaways:
Small business owners opposed Biden's student loan plan by 73%.
The scheme was struck down by the Supreme Court, which ruled it was illegal.
The plan would have cost Americans at least $430 billion.
Source: Breitbart