McCarthy Blindsides Biden With Historic Move – Now Joe's Worst Nightmare Is Coming True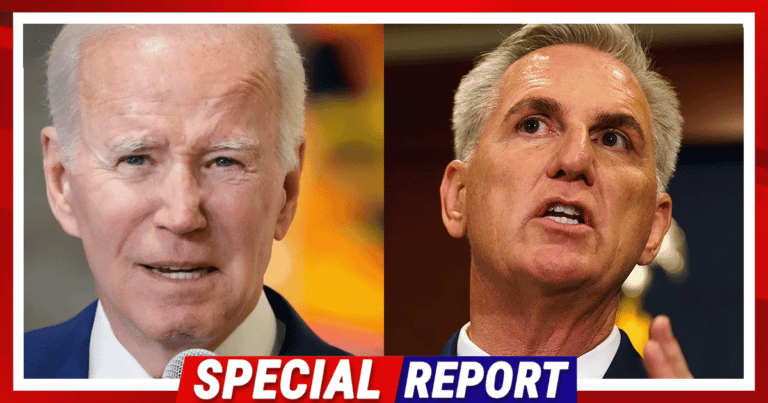 What's Happening:
These last few weeks have been very eye-opening, to say the least. After years of hearing rumors and speculation, America discovered credible testimony that dooms the Biden Crime Family. Not only did IRS whistleblowers expose how the DOJ tried to protect Biden. But we learned that an FBI informant went into detail about how Ukraine was bribery Biden and his son.
All this, yet the liberal media continues to ignore it.
Democrats might be trying to pin Donald Trump to the wall, but it's old Joe who should be worried. The information coming out against Biden is too much to ignore. And finally, the Speaker of the House told us what millions have been waiting for.
From Daily Wire:
House Speaker Kevin McCarthy (R-CA) said during an interview this week that the Republican-controlled chamber is moving closer toward an impeachment inquiry against President Joe Biden over allegations that he accepted millions of dollars in bribes from foreign countries.
Wow. McCarthy revealed that the House is preparing to launch an impeachment inquiry against Joe Biden. McCarthy spoke of the revelations that came out from the FBI informant. He even mentioned how 16 of the 17 payments that come from Romania went to Biden's shell companies.
There is a paper trail that cannot be avoided. This is probably why the DOJ shut down the IRS's investigation into Hunter Biden. After all, the IRS would have been looking at his financial records. It's hard to time bribery money when the government is literally pouring over the transactions.
This overwhelming evidence at least warrants an inquiry. House Republicans need to launch their own probe so they can show, with certainty, that Biden is guilty of accepting bribes, the threshold for impeachment.
Democrats will do what they can to stop this. Despite the fact they impeached Trump over a phone call, they will move heaven and earth to ignore the blatant evidence against Biden. Hey, we've been saying all this since 2020 and they've ignored us.
Why wouldn't they ignore it, just months before the election?
If Biden is going to be impeached it will take every last Republican to man up and do their jobs.
Key Takeaways:
Speaker McCarthy stated Republicans were moving forward with an impeachment probe against Joe Biden.
This comes after damning testimony came out revealing a bribery scheme involving Biden.
According to testimony, Joe and Hunter Biden received bribes from Ukrainian figures.
Source: Daily Wire