GOP Leader Finds "Sinister" Spending Goal in Blowout Bill – And Democrats Want to Spend $575M On It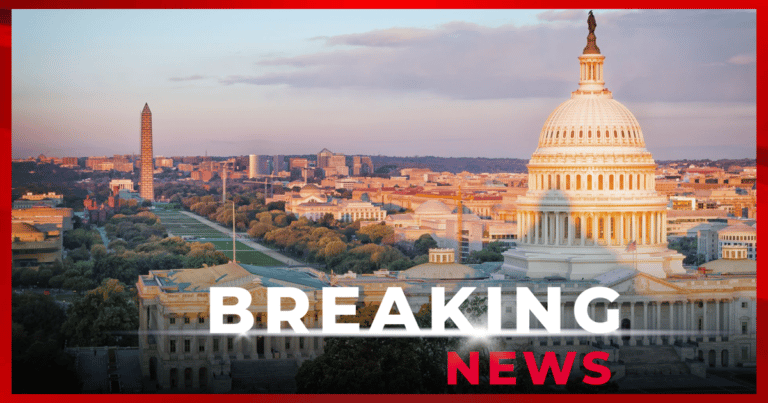 The $1.7 trillion omnibus spending bill is under heavy scrutiny this week, as the Biden administration attempts to pass the massive 4,200-page piece of legislation.
Republican leaders and other political experts have expressed concern over the contents of the bill. Many say that once again, it features gigantic handouts for far-left and "woke" ideologies.
But there's something even more "sinister" in the bill, according to one top Republican.
Rep. Dan Bishop (R-N.C.) ripped into the controversial bill and cited many questionable expenses. But perhaps most disturbing is $575 million Democrat lawmakers have earmarked for a specific purpose.
These are funds for "reproductive health" in areas of the country were "population growth threatens biodiversity."
If this sounds frighteningly similar to a science-fiction story, you're not alone. Rep. Bishop seems appalled at the idea, as he wrote on Twitter: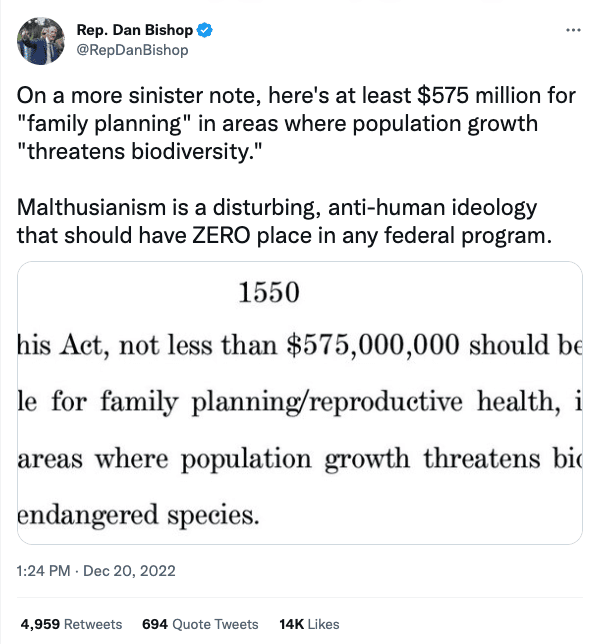 Other social media users went after the promotion of abortions, as well as the apparent drive to reduce population growth.
The Daily Caller news editor Grayson Quay said, "Spending taxpayer money to save nature by aborting babies. Nightmarish."
Many right-wing citizens are concerned that Democrat ideals seem to include anti-life plans and laws, and now they go beyond killing babies in the womb. It almost feels like a larger, more terrifying plan.
As Minnesota House Representative-elect Walter Hudson said:
There's a chilling anti-human synergy between the Left's pet projects, from throttling energy production and raising the cost of living to outright killing people in the womb.

It's all about making fewer, less vibrant, and wholly dependant people. It's truly evil.
Breitbart reporter Hannah Bleau added that this is "further proof leftists believe humans are nothing more than a virus on the earth."
Rep. Bishop didn't stop there, however.
He also noted other features of the bloated bill, which includes another half-billion dollars ($524.4M) for a "structural racism" subdivision at the National Institute of Health.
Other critics of the bill claim that even those who wrote it don't really know what's in it. It reminds Americans of the now-infamous "we have to pass it to know what's in it" remark.
And with so many American citizens struggling with skyrocketing costs of living and inflation this holiday season, millions and billions being spent on the woke agenda may not go over too well.
Key Takeaways:
The omnibus spending bill includes $575M for "family planning" in areas where population growth "threatens biodiversity."
Minnesota House Rep-elect Walter Hudson said it's "about making fewer, less vibrant, and wholly dependent people. It's truly evil."
Critics of the bill say it includes mass amounts of "pork," and some accuse politicians of not knowing what's in it.
Source: Fox News