Squad Democrat Just Made an Eye-Opening Claim – Says We "Need" Immigrants to "Pick the Food We Eat"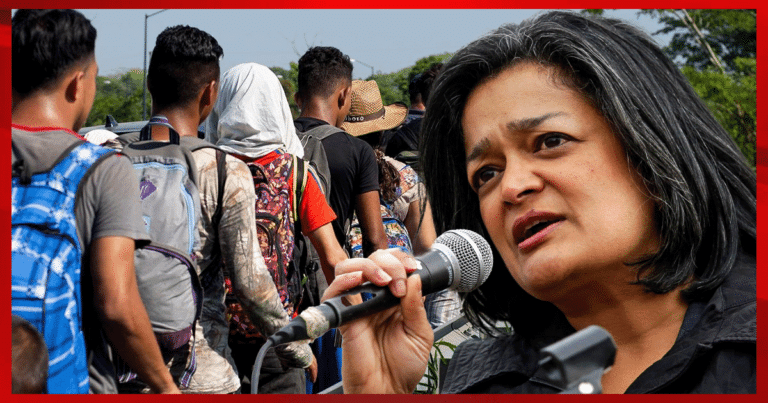 What's Happening:
What is the difference between a Democrat and a bigot? Apparently good PR. The progressive left claims to be the only group fighting to help minority groups. They claim that Republicans don't care about people of color or immigrants. The liberal media has spent countless hours and words attacking conservatives for their "cruel" attitudes toward people who come to this country illegally.
Because, in their minds, wanting a secure border is the same as hating a person.
But what do progressives really think? If they really just cared about helping immigrants, they'd welcome all of them in their cities and neighborhoods. We know that's not happening! So, what is this really about? Far-left Democrat and "squad" member Pramila Jayapal said the quiet part out loud recently, exposing the true face of her party.
From Breitbart:
America "needs" immigrants in order to "pick the food we eat" and "clean our homes," according to progressive Rep. Pramila Jayapal (D-WA) who faced accusations of "racism" over her recent comments…

"Immigrants pick the food we eat, rebuild our communities after climate disasters, help construct our infrastructure, power our small business economy, clean our homes, and look after the most precious in our families — our children and our elders," she added.
WOW! Just wow!

Democrat Jayapal defending mass illegal immigration of Biden admin:

"Who will clean our homes?" pic.twitter.com/nhCpaDIMC2

— Mariana (@lonestarherd) April 19, 2023
Damn. Did she really say all that? While defending Biden's criminal neglect of our border and immigration laws, the progressive Democrat really said we need illegal immgrants because they basically do all our menial labor?
Is Jayapal admitting that Joe Biden and his party are importing illegal aliens so that they can be some kind of servant class? Sounds like it. She said that we "need" these undocumented migrants to "pick the food we eat" and "clean our homes."
Sorry, Pramila, but I actually clean my own house. Most of us can't afford a luxury like maid service. I guess she's spent too much time among the D.C. elite.
And why do we need illegal aliens to pick crops and build things? Aren't those the jobs that many hard-working Americans want? And haven't Democrats–for years–complained about migrants taking those jobs from Americans, because "greedy" companies pay aliens less?
It seems Democrats have given up trying to help working Americans and have instead embraced forming a servant class made up of illegal aliens. What a horrible thing to want to do. Yet Biden is letting it happen by refusing to enforce our border laws.
Key Takeaways:
Democrat Pramila Jayapal admitted that we "need" illegal aliens to do menial work.
She said these illegals "pick the food we eat" and "clean our houses."
The progressive Democrat is being blasted for her racist comments.
Source: Breitbart