After St. Louis Couple Defends Home From Protesters – Police Come To Search and Seize Their Guns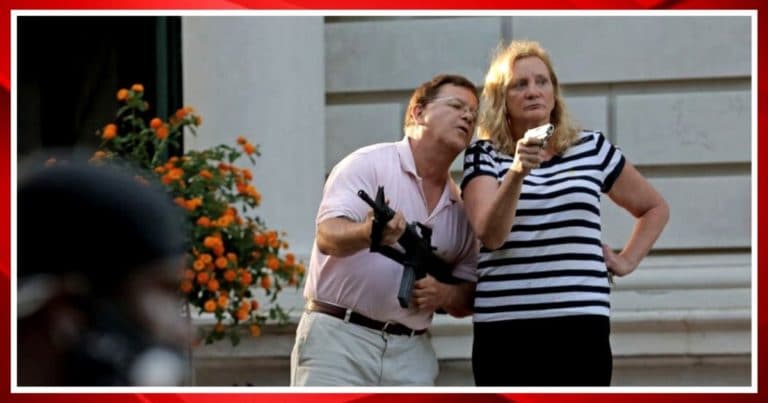 What's Happening:
A couple in St. Louis recently made headlines after they defended their home from a swarm of radical protesters. Pictures of the homeowners were plastered all over the Internet, in which they were brandishing a pistol and AR-15 rifle.
The left responded in anger over the fact that law-abiding citizens were trying to defend their home from a roving group of protesters—after weeks of seeing protests devolve into violence.
It appears the homeowners were within their rights to defend their property and lives. But the local police think differently:
St. Louis police officers executed a search warrant Friday evening at the home of Mark and Patricia McCloskey, the Central West end couple who confronted protesters with weapons in June.

Sources told 5 On Your Side that police seized one of the weapons, the rifle, from the couple and they told police their attorney has the pistol seen in photos.
Ever since Black Lives Matter staged protests across the country, the media and left have been more likely to defend them than criticize the damage and chaos they caused.
News outlets have apparently ignored the mass destruction. Some have even applauded efforts by radical groups to overthrow cities and local police departments.
It is no wonder that a couple, fearing what a large group of protesters might do to them, would brandish weapons. According to reports, they did not shoot anyone. It appears they simply warned protesters not to harm them or their property.
The media quickly cast the homeowners in a negative light, which no doubt motivated local cops to target them. The residents were on their own property, carrying weapons they legally owned. Protesters, on the other hand, were trespassing and posed a clear threat.
Yet the police confiscated the homeowners' weapons, with little news as to what happened to the protesters.
Should police have the right to take away an American citizen's gun, when they shot nobody? Can the government decide it can disarm you, just to apparently virtue signal to radical protesters?
There aren't a lot of details revolving this development, but it should concern every Second Amendment-supporting American.
Key Takeaways:
Police have taken the rifle of a couple who brandished weapons to defend home.
The media was quick to demonize homeowners, as protesters stormed their neighborhood.
It isn't clear yet what local police are trying to do.
Source: KSDK