Stranded Mom Prays For Help – Then A Deputy Answers Her Prayer In The Most Unexpected Way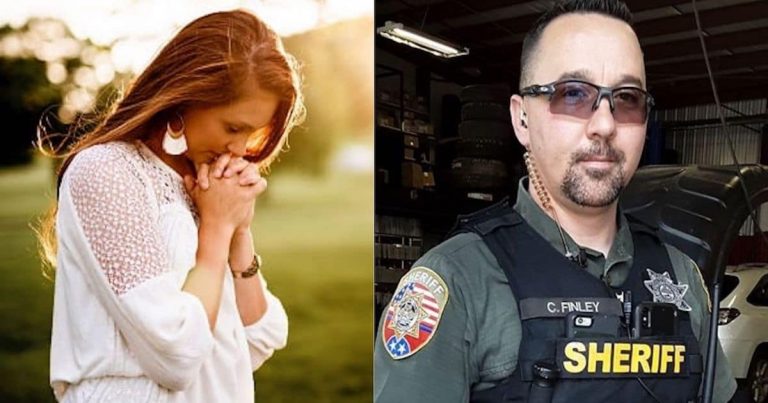 God really DOES have a plan – our men and women in blue really are miracles! #BlueLivesMatter
When Erica Senecal was stranded by the side of the road, she was helpless.
She wasn't in mortal danger, but the weight of life was really pushing her down…
She had a flat tire and she was already driving on a spare, which meant two tires would have to be repaired or replaced.
But this single mom was out of money. And that flat tire was the straw that broke the camel's back. It was just too much.
So, she prayed to God that someone would give her a helping hand.
…and then, as if summoned from out of the blue, came Rutherford County Sheriff's Deputy Chris Finley.
Finley spotted Erica's car and her flat tire and pulled over to stop.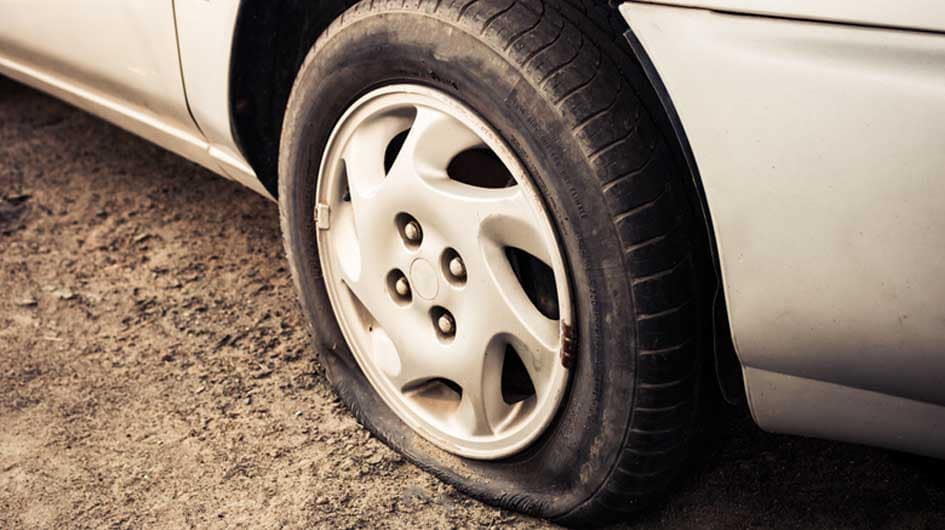 But he also noticed that she was quite upset, and that she needed two tires to be safe on the road.
So what did this wonderful servant of the people do?
Well, he first got a tow truck for Erica, and got her car towed to nearby Bud's Tire Pros.
Normally, that would've been it; after arranging for the tow, the cop could've just gone on his way.
But Finley felt oddly compelled to do more…
So he paid to replace all four tires on Erica's car!
Erica talked about her amazing experience – and her reaction – on Facebook: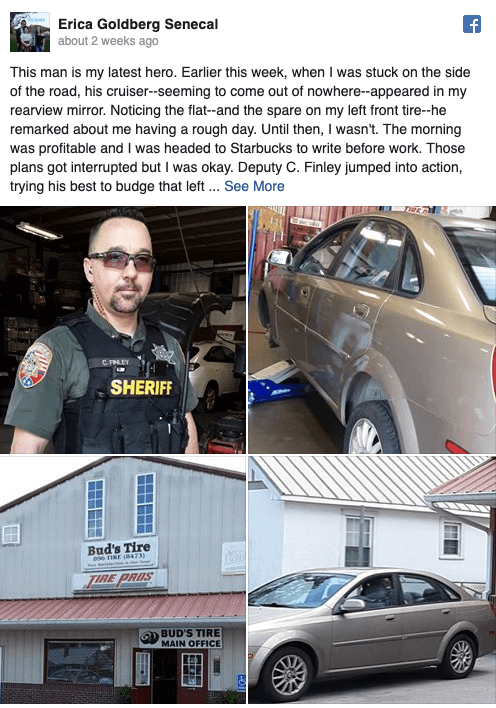 "I cried. After we got the car to the shop, I thanked him and the mechanics again and again."
But wait — here comes the best part:
Before Deputy Finley left, he slipped something into Erica's hand…
It was a business card with something written on it:
"He handed me a business card with 2 bible verses he'd written.

The deputy explained that he simply felt compelled to lend her a hand.

'Something inside me told me to stop and help you,' he wrote."
Erica could only smile in reply and say that she'd been "praying for days, waiting for God to supply."
She just never expected that her angel would come from the Rutherford County Sheriff's police department!
And this single mother really believes the entire situation was orchestrated by God.
She said she prayed specifically for help, and "God provided Chris." Simple as that.
This is one of those stories that just warms your heart and reminds you that yes, there IS a plan…
Sometimes, you just have to trust in that plan. And have faith.
SHARE this incredible story of an answered prayer with your friends and family!
Source: Liftable