Supreme Court Just Ruled On 4th Amendment – In A 6-3 Decision, The Court Protects Hot Pursuit Warrantless Search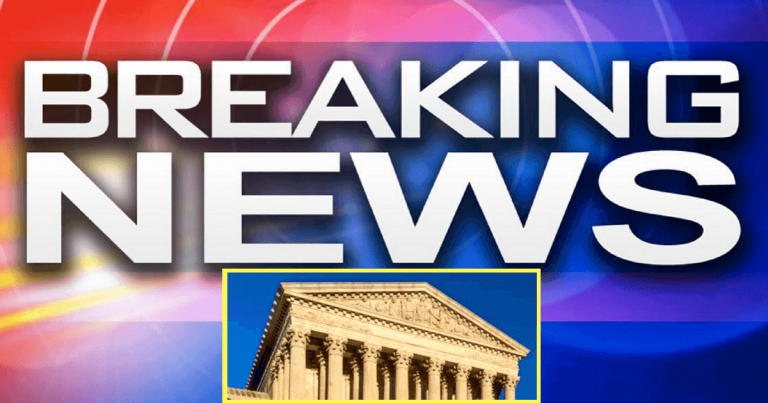 What's Happening:
In this day and age, it's more important than ever for citizens to protect their rights.
We can't trust the federal government, under Joe Biden, to do this. So, we have to look to red states—and the courts—to hold back the left's tide of socialism.
The Supreme Court has been ruling on many cases in recent weeks. Many of them were big wins for American citizens.
Another case was brought before the government that could determine how police do their job.
The left wanted to make it harder for cops to pursue wanted suspects. But the court didn't bend.
From Fox News:
The Supreme Court on Wednesday put limits on when police officers pursuing a fleeing suspect can enter a home without a warrant.

The high court ruled that when officers are pursuing someone suspected of a misdemeanor, a less serious crime, they cannot always enter a home without a warrant if a suspect enters.

The court had previously said that police in "hot pursuit" of a suspect believed to have committed a more serious crime, a felony, can enter a home without a warrant.
The Supreme Court made a ruling that further interpreted the 4th Amendment. This amendment forbids the government (including law enforcement) from entering a home without a warrant.
There are a few exceptions, as when a police officer is pursuing a fleeing suspect. If a suspect tries to escape a cop by entering a home—should the police be forced to acquire a warrant before they could enter?
What if this was a dangerous criminal, who would be long gone by the time the police got a warrant?
But at the same time, we can't allow Biden's Feds having full sway to enter someone's home without permission.
The courts drew a fine line between what police can do to maintain the peace and the rights of Americans.
They decided that police cannot enter a home without a warrant while pursuing a suspect of a less serious crime.
But they upheld that cops in "hot pursuit" of a suspect who committed a felony can enter the home.
It seems the court struck a balance that both protects citizens' rights but still allows police to apprehend dangerous criminals.
If the left had their way, I doubt cops would be able to do anything to stop criminals. Just look at how they run their cities.
Do you think the Supreme Court made the right choice to side with citizens over police in this 4th Amendment case?
Key Takeaways:
The Supreme Court decided on a case that touches on the 4th Amendment.
It ruled against warrantless entry, while pursuing a suspect committing a misdemeanor
The court also upheld "hot pursuit" for cops pursuing a dangerous suspect.
Source: Fox News