Supreme Court Stuns Biden with 6-3 Ruling – And Millions of Young Liberals Are Furious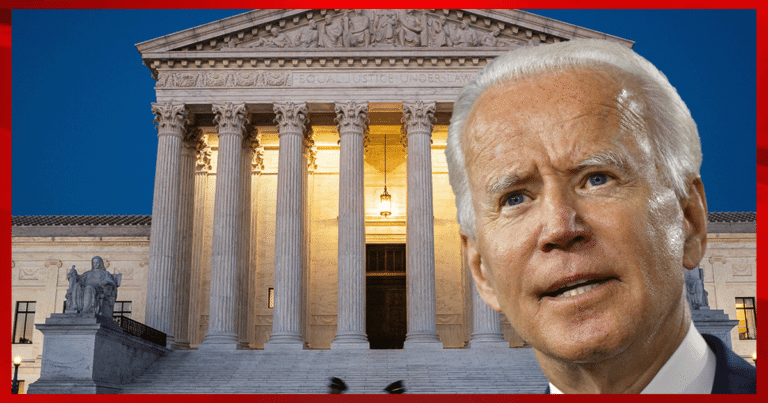 What's Happening:
Boy, the Supreme Court is on a roll. The highest court in the land has convened for its latest session. And it has been handing out rulings left and right that are spoiling Biden's radical socialist vision for America.
Thanks to Donald Trump, the court enjoys a conservative majority. Recently, a major Biden program was brought before the court. Joe launched this scheme as a way to buy votes from millions of Americans. But it would have forced many others to carry a burden they didn't deserve. Now, the SCOTUS has issued its ruling. And Joe is furious.
From Daily Mail:
The Supreme Court has struck down President Joe Biden's $400 billion student loans forgiveness plan in another bombshell decision.

The justices ruled 6-3 Biden's controversial plan to wipe out debts for 26 million Americans at taxpayers' expense was unconstitutional and an overreach of his executive power.
Boom! The Supreme Court just shut down one of Biden's worst and most expensive schemes. They ended Biden's student loan "forgiveness" plan that would have cost taxpayers billions. In the majority opinion, Chief Justice Roberts rebuked Biden for trying to circumvent Congress in passing such a massive spending program.
He wrote that such a decision "requires that Congress speak clearly before a Department (of Education) Secretary can unilaterally alter large sections of the American economy." Meaning, Biden acted as a dictator to get his way, by ignoring Congress's role in passing laws.
This is a major win for every American who was forced to pay for the college tuition of entitled students. Millions of Americans–who never had the chance to go to college–would have had to pay over $400 billion to cover students' debt.
It was particularly outrageous, since those students took those loans, knowing they'd have to repay them. Yet Biden decided he had the right to punish hard-working Americans, just so he could win a few votes for his party.
Unsurprisingly, all the conservative justices voted to strike down Biden's program. The three liberal justices voted to keep it.
Key Takeaways:
The Supreme Court struck down Biden's socialist student loan "forgiveness" scheme.
The court ruled Biden did not have the authority to make the decision without Congress.
Biden's plan would have forced taxpayers to cover over $400 billion in student loans.
Source: Daily Mail