Supreme Court Just Blocked President Biden – Last-Second Ruling Freezes Joe's Lifting of Title 42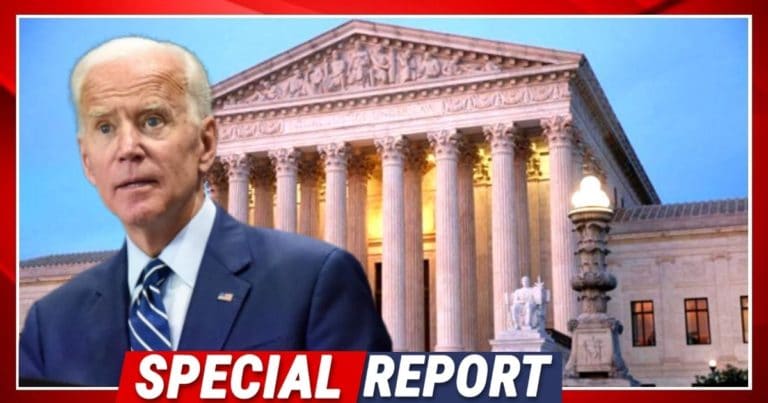 Despite what the White House might say, border authorities maintain that we have a serious problem at the border.
After reporting record numbers of encounters and arrests throughout much of 2022, they warned that the lifting of Title 42 would worsen the situation.
But the U.S. Supreme Court has jumped in at the last second.
Early this week, 19 states petitioned the high court for an emergency block that would stop President Joe Biden from lifting Title 42.
Republican leaders and southern states have been concerned that another border explosion just wouldn't be sustainable.
Even some Democrats – like California Gov. Gavin Newsom – have said their states are on the verge of breaking.
Now, though, SCOTUS says Title 42 has to stay in place — at least for now (from Fox News):
The U.S. Supreme Court on Monday temporarily blocked an order that would lift Title 42, the pandemic-era health policy that has been used to deter migrants more than 2.5 million times.
Chief Justice Roberts issued a one-page order granting the stay, and further asked the government to reply by 5 p.m. Tuesday.
The Department of Homeland Security (DHS) said they will obey the ruling,  and it'll remain in effect.
In an official statement, the agency said:
While this stage of the litigation proceeds, we will continue our preparations to manage the border in a safe, orderly, and humane way when the Title 42 public health order lifts.

We urge Congress to use this time to provide the funds we have requested for border security and management and advance the comprehensive immigration measures President Biden proposed on his first day in office.
Former President Donald Trump implemented the restrictions – known as Title 42 – and it kept migrants seeking asylum in Mexico while their trials were going on.
And the instant Biden said he was going to end Title 42, DHS, border officials, and GOP leaders all sounded the alarm.
Thankfully, the Supreme Court has responded to the alarm, and Texas Gov. Greg Abbott applauded the decision.
BREAKING: U.S. Supreme Court Chief Justice Roberts has HALTED the lifting of Title 42 for now.

Texas and other states are insisting that the Court leave Title 42 in place.

Today's order is a step in that direction.

This helps prevent illegal immigration.

— Greg Abbott (@GregAbbott_TX) December 19, 2022
For now, Title 42 has to remain, though it's likely the Biden administration will continue to push to lift it.
This has become one of the most prominent battles in the country, as millions of Americans have demanded more security for the country.
Several southern states have called the migrant flood an "invasion," and others claim the border is completely wide open.
Key Takeaways:
The U.S. Supreme Court temporarily blocked Biden's lifting of Title 42.
Border authorities and political leaders have warned that lifting Title 42 will result in unchecked waves of illegal migrants.
Texas Gov. Greg Abbott celebrated the decision.
Source: Fox News