After Democrats Lay Siege To The Supreme Court – Clarence Thomas Sends Them Message: Don't Destroy America's Institutions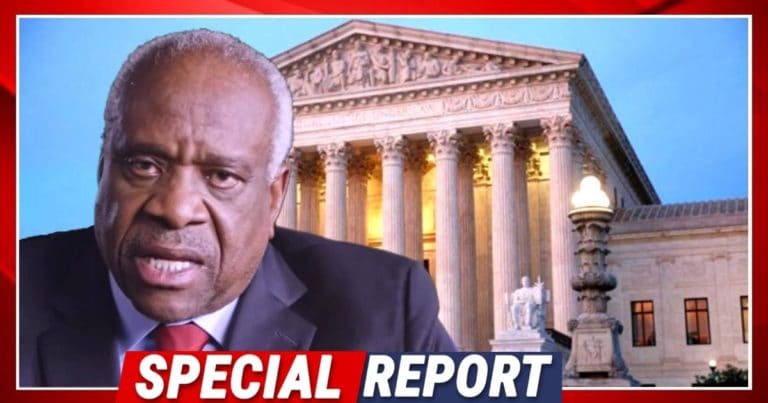 What's Happening:
Democrats will try to get their way, come hell or high water. Even if the Constitution gets in their way, they'll tear it down. That's exactly what we're seeing from some on the left, ever since the Supreme Court ruled in favor of a Texas law.
The left is so outraged that the court refused to block this law, that they are calling for it to be essentially destroyed. Democrats are once again demanding to "pack the court," which would eliminate its ability to check the rest of the government.
But celebrated Justice Clarence Thomas had some words for these leftists.
From Fox News:
Justice Clarence Thomas became the latest member of the U.S. Supreme Court to take aim at the media, defending the court as nonpartisan Thursday as he warned against "destroying our institutions because they don't give us what we want, when we want it," according to reports…

"I think the media makes it sound as though you are just always going right to your personal preference… So if they think you are anti-abortion or something personally, they think that's the way you always will come out. They think you're for this or for that. They think you become like a politician."
Clarence Thomas blasted the media—and the left's—outraged over their ruling to uphold a Texas pro-life law. Democrats went rabid after the court refused to block this law, while other cases were working through the courts. That triggered all kinds of attacks against the SCOTUS, with calls to pack it or shut it down.
Thomas rebuked politicians and those in the news, who seem to demand that the court does what they want it to. They seem to forget that the court's job is to uphold the Constitution, not rule in a way that pleases one political party.
But Democrats have betrayed their true motives; they only want leaders in this country who think and act their way.
Even Thomas, like Amy Coney Barret, revealed that he doesn't rule in a way that pleases himself. He does not make decisions to get to a certain outcome, but according to what the law dictates. Even if a ruling produces something he does not like, that's not his job.
He made Democrats look like spoiled, petty brats. They only want their way. The last thing they seem to care about is upholding our laws and Constitution.
Thomas also warned against judges acting based on political motives, warning the courts might have become the "most dangerous" branch of our government.
Key Takeaways:
Clarence Thomas defended the Supreme Court in a rebuke to the left.
He exposed the media's desire to manipulate the court to get what they want.
Thomas explained good judges do not rule to achieve a certain outcome.
Source: Fox News