Democrats' Supreme Court Closet Swings Open – Liberal Dark Money Groups Are Trying To Pack The Court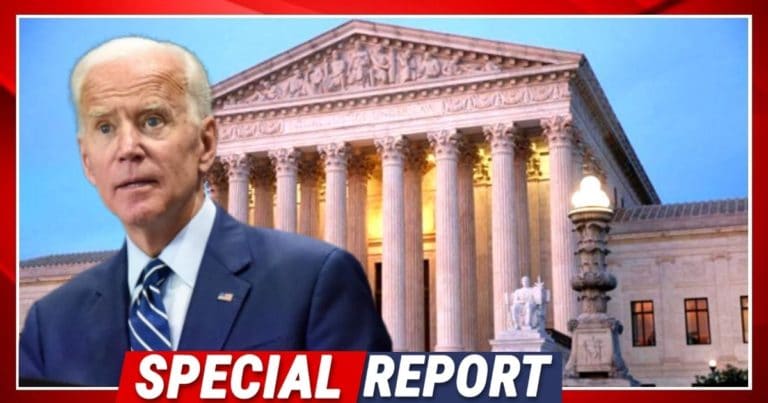 What's Happening:
Democrats are racing to pack the Supreme Court before the American people realize what's really going on, and they're getting some secret help to get it done.
We've already explained how Democrats plan to politically add seats to the court using their slim majority in Congress and their control of the White House.
They are using any avenue possible to centralize their power, even if it goes against longtime precedent.
And it looks like that includes taking money from some very questionable sources. From Fox News:
Sen. Ed Markey, D.-Mass., and Rep. Jerry Nadler, D.-N.Y., are leading congressional efforts to expand the Supreme Court from nine to 13 seats. The Democratic lawmakers were joined by members from activist groups Demand Justice, Take Back the Court and Indivisible as they announced legislation on the matter in mid-April.
The Judicial Crisis Network explains exactly what is going on:
"The liberal dark money groups that helped elect Joe Biden and Senate Democrats have been pushing for court packing for years, and now they want what they paid for: A Supreme Court stacked with politicians in robes that will advance their radical policy agenda," said Carrie Severino, president of the Judicial Crisis Network.
Remember these names, folks: Demand Justice, Take Back the Court and Indivisible. They are amassing funds to help Biden "take back" the Supreme Court, but not in the legitimate ways past presidents have done.
This shouldn't be too surprising since Biden has recently been called out for accepting millions in dark money funding in the 2020 election.
Democrats complain the loudest about taking big dollars from corporations or unsourced money, but it turns out they tend to get plenty of their funding that way.
Maybe these groups should be investigated for trying to force the Supreme Court to expand so liberals can get the court decisions they want.
Do you support an investigation into these dark money groups?
Key Takeaways:
Democrats have introduced legislation to pack the Supreme Court with 4 new justices.
Recent information shows that dark money groups are supporting the push to pack the court.
Groups like Judicial Crisis Network are trying to blow the whistle on them to the American people.
Source: Fox News