Supreme Court Packing Plan Runs Into Brick Wall – Over 400,000 Order Biden To Put An End To The Charade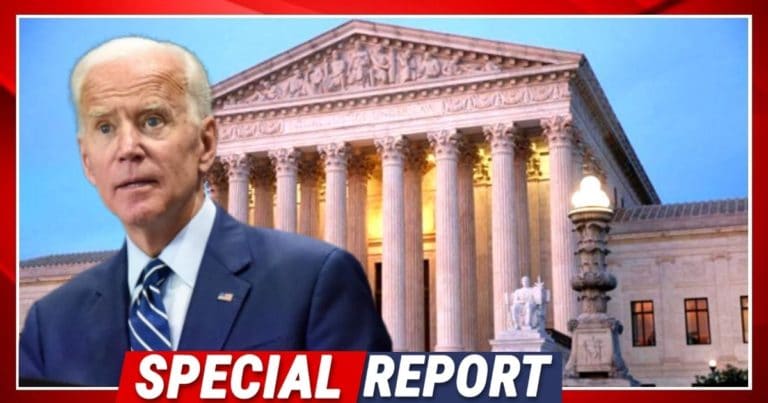 What's Happening:
We all know one of the left's biggest schemes to reshape the United States is through the courts. If they can get activist judges to go along with their socialist plans, nothing could stop them. But thanks to Donald Trump, we have a 6-3 conservative majority on the highest court in the land.
But Democrats, including Joe Biden, seek to change that. Biden created a "commission" to evaluate the court system. Many believe they will recommend adding many more justices to the Supreme Court. But a group has just come forward to oppose their measure. And they are coming with force.
From the Washington Examiner:
Already a losing idea in public polls, a legal group presented the president's court-packing commission on Wednesday with a petition from 402,537 foes, including leading legal figures such as former President Ronald Reagan's Attorney General Edwin Meese…

"Court-packing is a horrible, dangerous idea that Americans view as an act of pure political revenge, threatening our courts and the civil liberties of all Americans," said Kelly Shackelford, who authored the comment and is the president of First Liberty Institute.
A legal group is sending a powerful message to Biden's so-called "commission" on the courts, demanding an end to the court-packing discussion. The message is backed by 402,437 signatures from concerned Americans.
The message blasts the court-packing scheme as "revenge" by political partisans. They call out the scheme as threatening to the "civil liberties of all Americans." A message from Americans can carry tremendous weight, as the government is hearing directly from the people it is supposed to represent.
We all know why Biden created this commission. He wants a reason to add as many justices to the court that he wants. The more people he adds to the court, the more opportunities Democrats have to add liberal justices to it. Their goal is to erase the conservative majority Donald Trump created.
Trump, however, followed government norms to get his majority. He did not "pack" the court, simply add justices to fill vacancies. He did nothing wrong, yet Democrats still seem out for blood. If they can get the Supreme Court to side with them, they will rely on it all the time to defend their unconstitutional agenda.
Americans will lose their last line of defense against a runaway Congress and White House. There is good reason for Americans to oppose a packed, liberal Supreme Court.
Key Takeaways:
A legal group submitted a comment to Biden's commission on the Supreme Court.
Over 400,000 Americans signed a petition opposing court-packing.
Democrats have floated the idea of packing the court to gain a liberal majority.
Source: Washington Examiner