Supreme Court Justice Drops Hammer on Biden – Alito Tells America the Devastating Fallout of SCOTUS Leak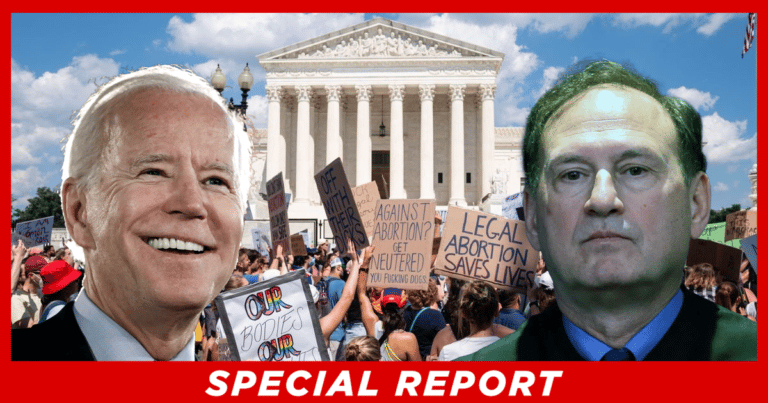 What's Happening:
It's been five months since someone within the U.S. Supreme Court leaked a draft opinion to the press. That leak lead to chaos among abortion activists, as Democrats urged protesters to violate federal law to confront our conservative justices. Despite claims of investigations, nobody has been outed for this damning leak.
To the shame of his administration, Joe Biden did not seem to care about this crisis. He simply toed the line of the Democratic Party. He was more outraged about the impending ruling against abortion than the fact that protesters were breaking the law. Now, Justice Alito revealed just how dangerous the leak was–and Biden continues to sleep.
From Just the News:
Supreme Court Justice Samuel Alito said the leak this past spring of a draft opinion that would become the basis for the court's conservative majority to strike down Roe v. Wade made justices "targets for assassination."

"The leak also made those of us who were thought to be in the majority and supportive of overruling Roe … targets for assassination because it gave people a rational reason to think they could prevent that from happening by killing one of us," Alito said Tuesday during a Heritage Foundation event.
Uh… what!? Those aren't the wild comments from some right-wing radio jock. This is one of the most respected and accomplished statesmen in the country. Supreme Court Justice Samuel Alito said the leaking of the draft Dobbs opinion literally made our justices "targets for assassination."
This, by the way, is why leaking court documents can be considered a crime. Because it led to activists attacking justices, to change the ultimate ruling on Roe v Wade. We've seen unhinged, deranged people attack conservatives before.
The liberal media has painted Republicans as "threats" to our country. And some disturbed people used that as justification to inflict harm on conservatives. That happened when a man opened fire on a Republican baseball game practice. It happened in the Las Vegas shooting. And it even happened recently, to a volunteer working for Sen. Marco Rubio.
The left's obsession to hold onto power apparently knows no bounds. But even if you say, "Hey, Democrats didn't want justices assassinated," then why haven't Biden and his DOJ taken this crisis with the gravity it deserves?
Someone leaked a Supreme Court document. That has never been done before. Radical activists broke federal law to protest outside justices' homes. Death threats were made. Alito had to be moved into protective custody. One man even crossed state lines to assassinate Justice Kavanaugh in his home.
Yet Biden does nothing? Can you imagine the outrage from liberals if the shoe was on the other foot? Talk about insurrection! Biden would be rounding up conservatives by the truckload if a liberal justice became a target. But he ignores these threats–because it interferes with his political agenda.
What do you even say to evil like that?
Key Takeaways:
Justice Alito revealed the document leak made conservative justices "targets for assassination."
He explained that some extremists might have tried to kill a justice to prevent the overturning of Roe.
Despite major threats against the court, Joe Biden and his DOJ have not investigated it once.
Source: Just the News