Supreme Court Hands Rare Decision To Texas – Case Gets Expedited, Liberal Legal Challenge To Pro-Life Law Gets Stopped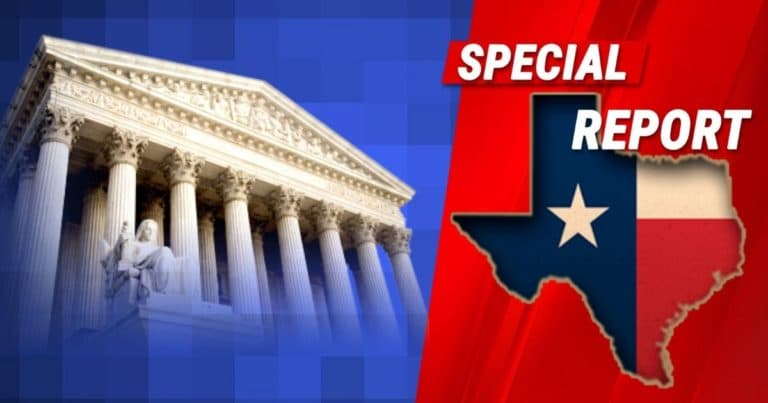 What's Happening:
Ever since Texas's pro-life law went into effect, the left has tried to shut it down. In fact, nothing short of the Department of Justice (led by Joe Biden) has tried to undermine the Lone Star State's constitutional right to pass laws.
Lower courts have handed Democrats major losses, ultimately allowing the law to stand. Biden's DOJ did not hesitate to appeal to the Supreme Court. They were hoping the court would block the law and drag this out with a lengthy court process.
Didn't work out that way. From the BBC:
The US Supreme Court will allow Texas to maintain a near-total ban on abortions, but will take up the case next month in a rare sped-up process…

The Supreme Court said it will focus on how the law was crafted and whether it can be legally challenged.

It is considered extraordinarily rare for the top US court to expedite cases.
The Supreme Court has decided to take up the challenge against the toughest pro-life law ever crafted in the United States. In a rare decision, they have agreed to speed up the process and will hear the case next month.
In the meantime, however, they are refusing to block the law, meaning abortions after 6 weeks are still illegal in Texas.
This is not what Democrats were hoping for. They expected the court to block the law until a final decision was made. Then, they would have waited for months, if not until next year, to hear the case. The fact that the Supreme Court has refused to block the law might signal how they will ultimately decide on this case.
According to reports, the court is specifically looking at how the law was crafted and if it can even be legally challenged. That's pretty key. They are not deciding if the law is legal, but if it can be overruled by a higher court.
Considering the way the law is crafted, it might have a good chance at standing. The law itself does not penalize mothers or doctors, nor does it send anyone to jail. It just allows families to sue, in the event the procedure is done.
That threat alone has discouraged doctors and clinics from performing the practice.
How the court will ultimately decide, we cannot predict. But it will be a very interesting November.
Key Takeaways:
The Supreme Court did not block Texas's pro-life law, while the case is being decided.
In a rare move, the court agreed to speed up the hearing process.
The SCOTUS will hear arguments on this law next month.
Source: BBC