Swing Democrat Makes His Impeachment Decision – Jones All But Seals His 2020 Election Fate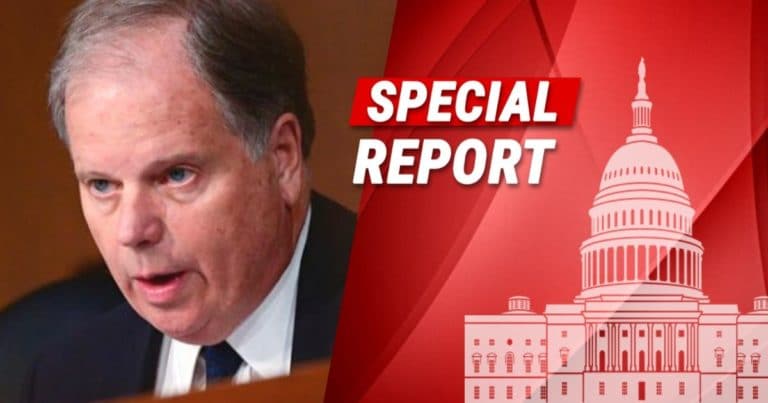 Impeachment Day just dropped on the Democrats. And it's going to drop even harder on any Democrats running in 2020.
President Trump never doubted the Senate would vote to acquit. There just isn't enough support for the 2/3rd majority to remove him.
The real question was which senators would stand by him—and which would turn on him?
Most Republicans voted to clear his name. But what about Democrats from red states? How did they vote?
One of them, who is facing a nearly impossible 2020 win, just made his decision.
That could be a big 2020 mistake, Doug.
From USA Today:
Following a speech on the Senate floor announcing his decision to convict President Donald Trump on two articles of impeachment, Sen. Doug Jones, D-Ala., told reporters his reelection was not a major concern for him…

Asked about Republican challenger Jeff Sessions' attacks on him, Jones smiled, shrugged, and said, "So?" Sessions served as Trump's attorney general.
Democrat Senator Doug Jones—who got pretty lucky in a special election in 2017—announced he will vote to convict Donald Trump.
You might remember Jones is occupying the seat of Jeff Sessions, who left the Senate to serve Trump as his first Attorney General.
Jones was able to snag the seat after controversies arose around his Republican rival. But guess what?
Now Sessions is back and he's gunning to retake his old seat.
It's no secret that Alabama is one of the reddest states in the country.
And Sessions is the long-time senator who served the state well. Does Jones think he has a chance against him?
If he wanted to hold onto his seat, maybe he should have voted to acquit? Or maybe he knows he's going to lose to Sessions, so he's burning his bridges down, while he can?
Maybe Jones is hoping that after he loses his Senate seat, he'll get a job in a liberal think tank or something?
I have bad news for you, Jones. You can't turn your on your red state and get away with it.
Who knows, will there even be a Democratic Party after November (fingers crossed)?
Do you really want to lose your seat to stay in their good graces?
SHARE if you want impeachment-loving Doug Jones voted out in 2020!
Source: USA Today