After Swing State Rocked By Democrat Scandal – Trump Predicts Major 2020 Upset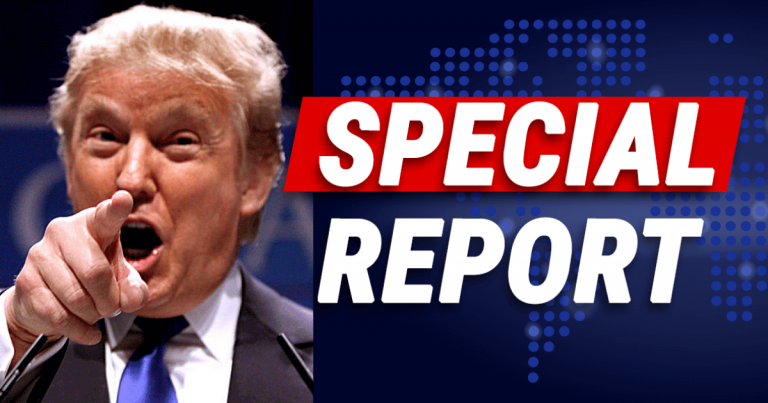 Democrats were in deep trouble already – but Donald just made it much worse.
Well, it's certainly been an interesting few weeks, hasn't it?
2019 started with an army of Democrats announcing their bid for the White House. Big surprise—they're all hardcore socialists who have announced plans to bankrupt our nation.
An independent liberal, Howard Schultz, might tank all their dreams by taking votes from Democrats and making reelection even easier for Trump.
Now, a scandal of epic proportions is digging Democrats into a hole they might never crawl out of. Virginia's Democrat Governor, Lt. Gov., and Attorney General are all embroiled in scandals that could cost them their jobs – and give the governorship to a Republican.
And Trump just joined in and dropped a big 2020 hammer on them.
From Trump's Twitter page: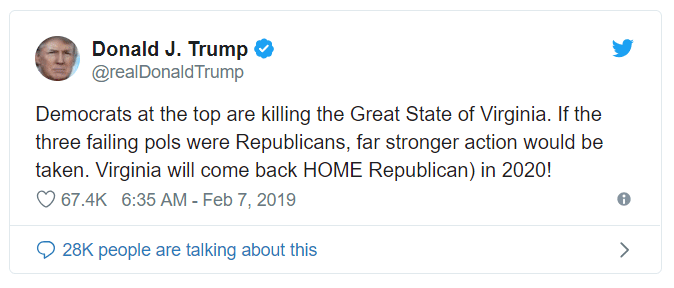 Democrats at the top are killing the Great State of Virginia. If the three failing pols were Republicans, far stronger action would be taken. Virginia will come back HOME Republican) in 2020!
SHARE if you're ready to see Virginia go RED in 2020!
I mean, you couldn't script a scandal as bizarre, shocking, and disastrous as what's going on in Virginia right now.
It's pretty sad. A Southern state rich in tradition and heritage has been under the weight of the Democrats far too long.
All their pride has been tarnished by terrible leaders and others who can't keep it in their pants!
We shouldn't be too surprised. Scandals and Democrats go hand in hand.
Virginia voters better remember this, come election time. You can't afford to keep electing Democrats.
If they're this terrible in their private lives, imagine what they're doing to your government!
SHARE if you're going to be a part of the Red Tsunami in 2020!
Source: Twitter