After Tape Leaks Of UK Official Bashing Trump, Donald Declares His Independence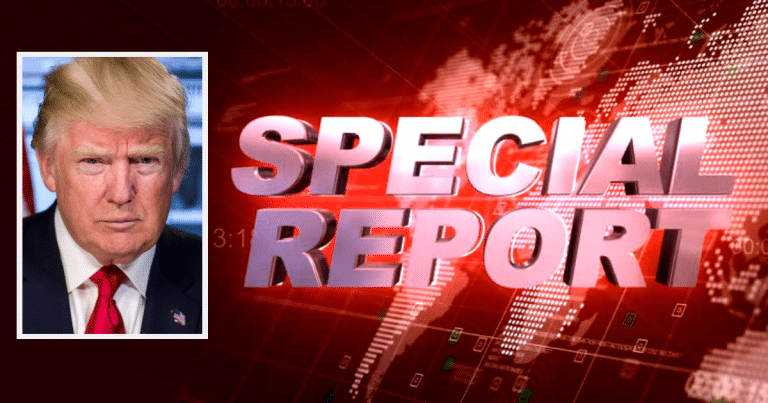 It slipped out – now Donald's bringing it crashing down on him.
President Donald Trump is crystal clear when he speaks—especially this time.
SWhen he heard what British ambassador Kim Darroch said, Trump was quick to respond.
In a set of leaked secret cables, he insulted Trump's capabilities as Commander-in-Chief.
Do you think Trump let him get away with it?
From The Hill:
"Darroch wrote in secret cables to top officials in London that Trump is viewed as 'insecure' and 'incompetent.'
As you might expect, Trump wasn't too pleased with these leaked comments, and he responded quickly.
Donald made it plain on Twitter that the U.S. is declaring its independence—from their ambassador. They "will no longer deal" with him: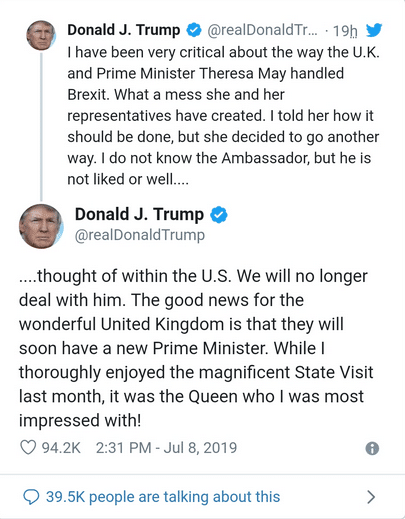 "I do not know the Ambassador, but he is not liked or well thought of within the U.S. We will no longer deal with him. The good news for the wonderful United Kingdom is that they will soon have a new Prime Minister."
Ouch! That has to smart, doesn't it Brits?
Trump is suggesting that a switch in leadership in Britain could result in some great changes.
And Donald's Tweet had an immediate impact as well:
Not long after the post, an administration official said Darroch had been "disinvited" from an upcoming dinner with Trump and the emir of Qatar.
Now, for the UK's part, they've apologized for the cable leak, saying it doesn't "reflect the closeness of the relationship" the U.K. and U.S. have.
They're also actively seeking the source of this leak.
Regardless of Britain's response to the situation, however, Trump doesn't like what he heard.
And when he says he won't deal with someone, he typically means it. He's not about to stand around, get insulted, and not respond.
But the leader of the free world isn't about to waste more time on Darroch, either.
After telling reporters Darroch "hasn't served the U.K. well" and they're "not big fans of the man," Donald added:
I can say things about him, but I won't bother.
That's right, Mr. President. Why waste your breath?
It's clear Darroch doesn't think too highly of you, but you've done great things—and the U.K. is our ally, after all.
Forget what one insulting man says and keep doing fantastic things for America!
SHARE if you think Trump was right to be done with that ambassador!
Source: The Hill