Ted Cruz Goes After Queen AOC – He Just Issued The Democrat A 'Simple Challenge' At The Border: "Go See With Your Own Eyes"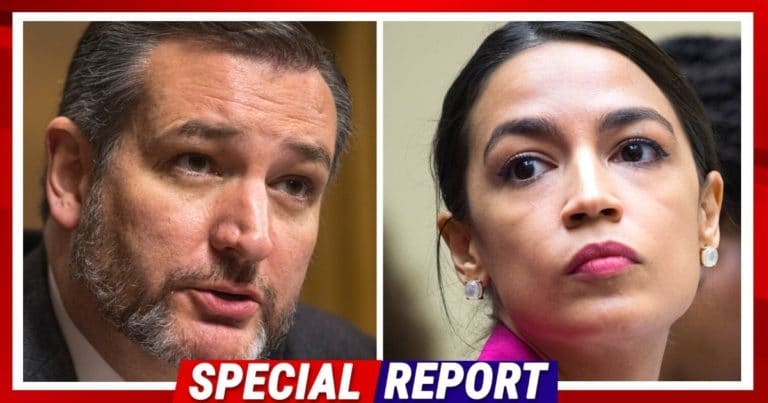 What's Happening:
These days, we are witnessing a shocking about-face by many Democrats in D.C. But Ted Cruz is not letting them get away with it. For years, Democrats like AOC complained and "lamented" supposed policies under Donald Trump.
Yet they refused to admit those policies were actually enacted by Obama. Now, those policies are even worse under Obama's lackey, Joe Biden. So, Ted Cruz dropped a hammer on Ms. AOC. He issued her a "simple challenge."
We'll see if she takes him up on it.
From Daily Wire:
"For four years, Democrats went on and on and on, the corrupt corporate media went on and on and on about kids in cages…

And today under Joe Biden, the cages are bigger and they're more full than they were before…"

"Well, I'm going to give a simple challenge for Representative Ocasio-Cortez and for every Democrat in this body. Go see the Biden cages with your own eyes."
Ted Cruz called out AOC, who famously went to the border during Trump's administration for numerous photo ops. She made a big deal about the "cages" kids were being held in (though none of her photos showed kids in cages).
Cruz is calling out AOC to go to the border today and see the "bigger" cages Biden is keeping children and families in. He set the record straight that those "cages" Democrats hated so much when Trump was president were actually made by Obama.
(In fact, Trump went to great lengths to end child separation and treat migrants with dignity.)
But if Democrats cared that much about migrants back then, why aren't they saying anything now? Biden created a brand new, bigger migrant crisis than we've ever seen. Hundreds of thousands of migrants, including children, are being detained.
Cruz himself has seen those cages. He's been to the border numerous times this year to expose Biden's refusal to deal with the border. Why hasn't AOC? Why does this Democrat, who cares so much about "justice," refuse to hold Biden to the same standard she held Trump to?
Maybe it's because she doesn't give two rats tails about the border? Nor those kids in cages? Maybe AOC, like so many other Democrats, is all talk and no action. She'll show up for photo ops to make herself look good.
But when it really counts, where is she? She is nowhere to be found.
Key Takeaways:
Ted Cruz challenged AOC to go to the border and see Biden's cages.
Cruz blasted Democrats for attacking Trump over the border.
But AOC has yet to call out Biden over his border crisis.
Source: Daily Wire