Ted Cruz Sends Mitch McConnell Spinning – The Senator Just Dropped the Midterm Outcome at the Minority Leader's Feet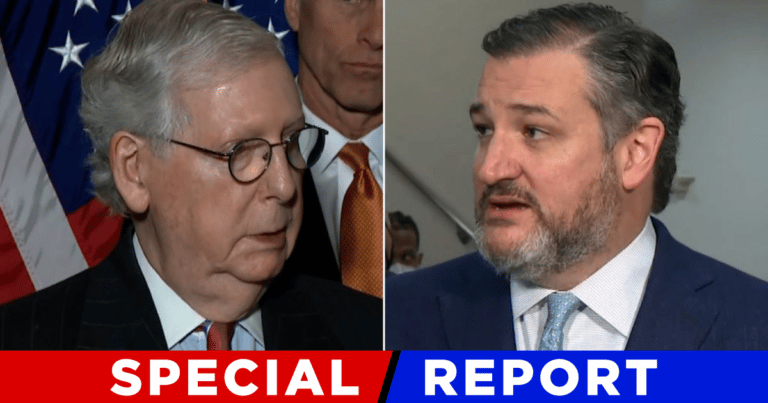 What's Happening:
Plenty of pundits have given their "post mortem" for the 2022 midterms. It's no secret Republicans are upset about the lack of a "red wave" for congressional races. Some, among them many RINOs, have blamed Donald Trump for the losses.
But Ted Cruz doesn't see it that way. During a recent interview saying Republicans missed a chance to pick up many seats in the House and Senate. Yet they missed this "generational opportunity." And he's blaming one man.
From The Western Journal:
According to The Daily Caller, Cruz unapologetically stated on Monday's episode of his podcast "Verdict with Ted Cruz" that McConnell's "indefensible" abandonment of Arizona Senate candidate Blake Masters is what kept Republicans from recapturing the Senate…

"… Why did he pull out that money from Masters who desperately needed it?"

"Because Masters said he would vote against Mitch McConnell, and so Mitch would rather be leader than have a Republican majority… the truth of the matter is, he'd rather the Democrat win. So he pulled all the money out of Arizona."
Woah. Ted Cruz blasted Mitch McConnell for pulling money from Blake Masters' Senate campaign. As soon as Masters, a Trump ally, won the nomination, McConnell pulled $8 million that was designated for the Arizona race.
Cruz slammed McConnell, saying he refused to support Masters because the candidate vowed not to support Mitch as the Senate leader. The Texan senator ridiculed McConnell, accusing him of supporting Democrats, so long as he stayed in power.
Donald Trump had long criticized McConnell, suggesting the long-serving Republican was really a RINO. And Mitch seemed to prove Trump right, during the Biden administration. McConnell has been shockingly silent, as Biden's tanked our economy.
And he did little to help Republicans win during the election. His decisions seemed to help Democrats more than Republicans, especially in Arizona.
There appears to be a growing sentiment among Republicans that McConnell is not the ally he makes himself out to be. Since 2020, he's appeared much more willing to help Democrats over his own party.
Perhaps a senator like Cruz is better off leading them?
Key Takeaways:
Ted Cruz blamed Mitch McConnell for the lackluster 2022 results.
Cruz slammed Mitch over pulling $8 million from Blake Masters' campaign.
McConnell has long been criticized by conservatives as a secret RINO.
Source: The Western Journal