Ted Cruz Goes On A Tear In Congress – Grills Rosenstein, Accuses Obama Admin Of Corruption Worse Than Watergate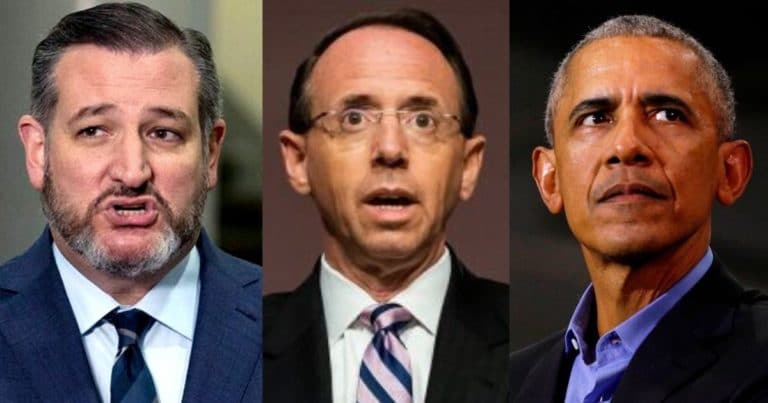 Today marks the start of the Senate's investigation into "Crossfire Hurricane." And it started with some fireworks.
The Senate Judiciary Committee questioned Rod Rosenstein, former deputy attorney general. It appears Rosenstein knew far more about the investigation against Trump than he let on. Only now we are learning about it.
Sen. Ted Cruz says that is unacceptable. And he roasted the former DOJ official.
From Fox News:
Sen. Ted Cruz blasted former Deputy Attorney General Rod Rosenstein's role in the Russia investigation during a tense Senate hearing Wednesday, saying he was either "complicit" or "grossly negligent."
Ted Cruz called out Rosenstein's role in the questionable investigation against Trump and his campaign.
He said the former deputy attorney general was "complicit" in an attempt to undermine the incoming president. Or, at the very least, was "grossly negligent" to let this case go on.
Cruz's remarks came after Rosenstein admitted he knew about "misconduct surrounding the probe," but apparently did nothing to stop it.
He even said that he would not have signed a surveillance warrant against Carter Page "had he known" about what we know now. Cruz wasn't buying it.
But the Texas senator didn't stop there. He called out Obama and his entire administration.
Ted Cruz called out what Obama and Biden did against Trump, saying it was worse than Watergate.
He accused the Obama administration of "targeting" his political rival. Cruz put the blame on Crossfire Hurricane at the feet of the former president himself.
Our Take:
Cruz pulled no punches when he went after everyone connected to this investigation against Trump.
As more details have poured out, we learned there was very little basis for Obama's FBI to go after Carter Page and others.
More information suggests that the last administration was trying to build a case against Trump, in order to undermine or end his presidency.
There was plenty to suggest operatives within the Obama administration had political motives when they went after Trump's campaign.
We even learned that top officials wanted to unmask Flynn, in the larger efforts to discredit Trump's administration.
This has all added up to a serious situation. And Ted Cruz is not willing for anyone to get away with it. He is holding all feet under the fire—and he wants accountability for everyone.
SHARE if you want justice for Trump and his campaign staff.