Texan Chip Roy Interrupts Schiff's 'Star Chamber' – Accuses Adam: 'This Whole Hearing Is Out Of Order!'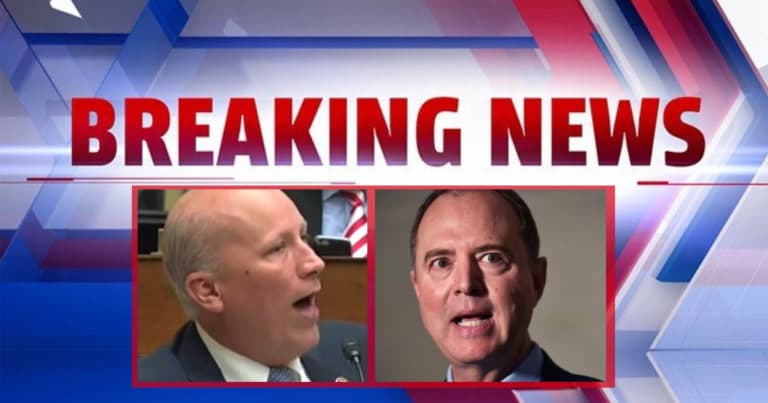 Schiff never saw this Texan coming – he blew the secret hearing wide open!
Adam Schiff has been holding secret meetings for the past month. Only now are we getting the transcripts.
It's hard not to believe that these impeachment meetings are a coup against the president. Democrats like Adam Schiff are stacking the deck against him.
He refused to accept real evidence that cleared Trump's name. Instead, he dragged in witness after witness, trying to get them to point the finger at the president.
The antics going on at these meetings must have been getting out of hand.
In fact, outspoken Texas Rep. Chip Roy had enough at one point. He called out Schiff and his bogus meetings.
From Daily Caller:
Acting Ambassador to Ukraine William Taylor's testimony before the House Intelligence Committee last month included a clash between Republican Texas Rep. Chip Roy and the committee's chairman, Democratic California Rep. Adam Schiff.

Transcripts released Wednesday revealed the Al Pacino movie-like clash, during which Roy declared the entire proceeding "out of order" after being frustrating by Schiff's refusal to address his concerns.
Wow. Rep. Roy called out Adam Schiff. Seems like the Democrat was rejecting every concern or request by Republicans.
That's probably a big reason why he conducted these meetings in secret.
He knew that the public wouldn't support him if they saw how he was acting.
Refusing to even acknowledge Republican members of this committee? Is this a fair process or a kangaroo court?
I bet you know the answer to that question.
The Democrats aren't interested in finding out the truth. They continue this bogus witch hunt, just to find something to use on Trump.
Republicans in these meetings have been gagged, ignored, and silenced. They have not been given any chance to voice their questions.
Never before in the history of our government has that been allowed.
Perhaps its high time these impeachment inquiries be brought to an end.
SHARE if you think this impeachment is out of order and should be stopped!
Source: Daily Caller