Texas Democrat Admits There's Just One Way To Beat Trump – Then Donald Demolishes It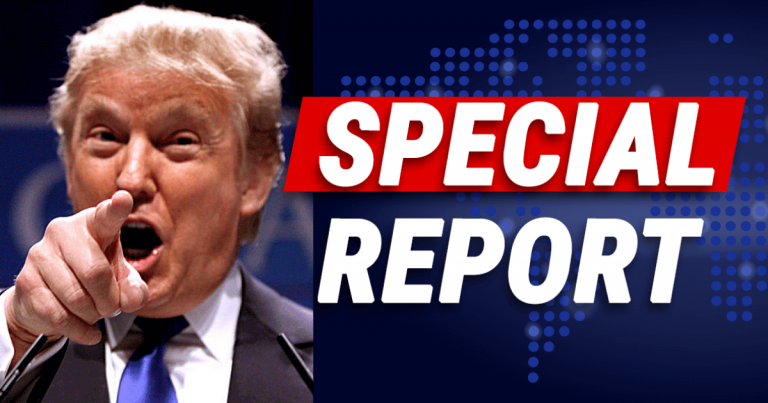 Democrats are running out of options, but one Texas Dem thought he finally had Trump cornered – he didn't see 'The Donald' coming.
Democrats say they have good reason to impeach Trump. They've been saying that for years, with no results!
Well, they just revealed the real reason they're pushing for impeachment.
Mueller's probe gave them nothing. They'll never get his tax returns (trust us). And it looks like his predecessor, Obama, is the real dirty-dealer.
So, what's their big reason for impeaching Trump?
Texas Rep. Al Green just spilled the beans, and Donald demolished it.
From Twitter: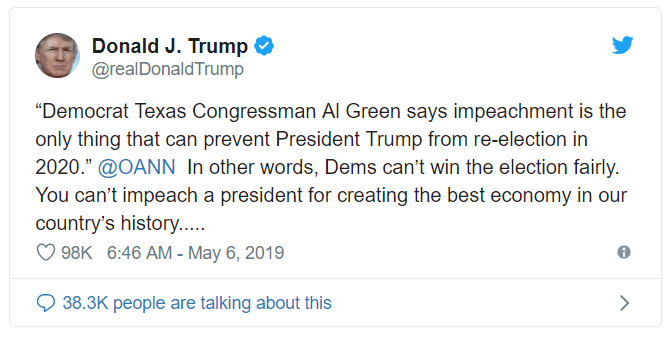 Here's Trump's full tweet: "Democrat Texas Congressman Al Green says impeachment is the only thing that can prevent President Trump from re-election in 2020." @OANN  In other words, Dems can't win the election fairly. You can't impeach a president for creating the best economy in our country's history…..
Uh-oh… he really let it slip!
I know, the oddest thing about that tweet is that there is a Democrat congressman from Texas!
I guess the guy isn't too smart, cuz he just gave away the Left's plan for 2020. And it's pitiful, to say the least.
They have no political stars that could even come close beating Trump, no matter what they say. So, they are hoping to impeach the man before November 2020.
Trump made it clear:
He explained how Democrats can't win fairly in 2020. They have nobody that will convince Americans to replace the man literally making America great again.
The economy is the best in decades—perhaps in America's entire history.
There are more jobs right now then there are people looking for work! All thanks to—not Obama's terrible policies—but Trump's America First agenda.
Uncle Bernie can't compete. Creepy Joe's got nothing. Beto… I mean, seriously, is that guy still running?
No Democrat can beat Trump's economy. So, they think they can tank him with a fraudulent impeachment.
They think they can weaponize our justice system to take down our president. They're not even trying to hide their corruption anymore.
But even then, they will fail. Because Trump's done nothing wrong—and Americans know it.
But what's it going to take? Showing up at the polls for Donald, no matter what the Democrats and media say.
SHARE if you're voting TRUMP in 2020!
Source: Twitter