Texas Gov. Abbott Defies President Biden – Joe Refuses To Build The Wall, So The Lone Star State Will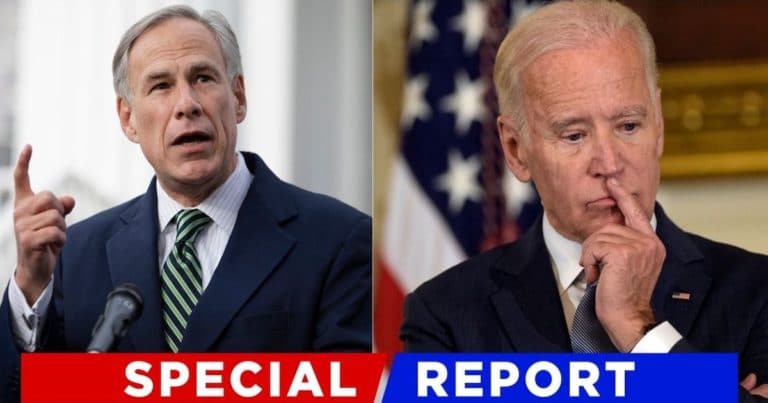 It is arguably the biggest issue the Biden administration faces today: the southern border situation. The numbers started to take a turn for the worse during the admin's first few weeks.
Those numbers have gotten progressively worse in recent months, too. And now border officials are begging for help, while many southern state leaders are calling out the awful conditions.
In fact, one state just took matters into its own hands.
Unsurprisingly, Texas has been the biggest critic of the Biden administration's handling of the border crisis. After all, they share a very large section of U.S. border with Mexico.
Texas authorities have seen how Biden's lax border policies have impacted the state and its residents. And frankly, they've had quite enough of the administration's lack of action.
That's why Governor Greg Abbott just promised to do what Biden has refused to do: protect his state, and the country.
Abbott is tired of waiting for Washington to address the situation (as he's stated many times in the past), and he's decided he doesn't need the D.C. bigwigs to get things done.
From Fox News:
Texas Gov. Greg Abbott said Thursday he will soon unveil plans for the construction of a wall along the state's shared border with Mexico as part of a slew of actions meant to address an ongoing immigration crisis.
Gov. Abbott was one of the most vocal advocates for a border wall during former President Donald Trump's term in office.
The instant Biden stepped into the White House, Abbott and other Lone Star State officials warned that reversing Trump's policies would have a profoundly negative impact.
That appears to be exactly what has happened, statistically speaking. And Abbott says he can't afford to sit on his hands:
The ability to arrest will be enhanced by building border barriers.

Some of these border barriers will be built immediately, and whenever anybody tries to modify, attempt, or get through any of these border barriers, that in itself is a crime for which they can be arrested.

But, on top of that, I will announce next week the plan for the state of Texas to begin building the border wall.
The Governor didn't go into detail concerning the cost of the project or an estimated time frame.
But as many know, President Biden suspended federal funding for Trump's wall almost immediately upon taking office, so it's possible that Gov. Abbott has been thinking about this for some time.
He did say the state legislature passed a budget that included about $1 billion for border security. They're also creating a special task force to address the crisis.
In defense of his decision, Abbott said it's simply a matter of statistics and logic. "Look at the numbers to see it," he said, claiming Biden's open border policies are the direct cause of the issues.
The number of arrests have skyrocketed in 2021: they jumped 674 percent year-over-year in May, surging from 23,000 encounters in 2020 to over 180,000 (courtesy Customs and Border Protection).
In the end, Texas has had enough.
Gov. Abbott refuses to let this continue and perhaps he has every right to make these moves. If the current administration won't do anything to fix this very obvious problem, someone else has to.
Key Takeaways:
Texas Gov. Greg Abbott has promised to construct a wall at the southern border.
The state has set aside about $1B for border security, and this includes a new task force.
Border statistics have been going in the wrong direction for months, and now Texas says the numbers are too disturbing to ignore.
Source: Fox News