Texas Republican Reveals Insider UFO Details – Congress Briefing on Chinese Balloon Goes Public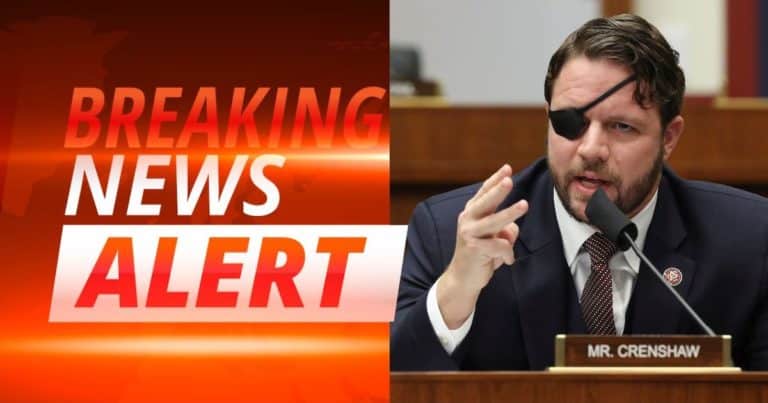 With four unidentified high-altitude objects shot down in less than a week, America is looking for answers. The first was a confirmed Chinese spy balloon, and reports claim the second was as well.
But the others remain unidentified and Washington has been very quiet on the issue. There's also the possibility that we "lost one" that was originally detected over Montana.
Congress members have finally been briefed on the situation, though — and one Republican is willing tell us what he knows.
In the interest of "transparency," Rep. Dan Crenshaw (R-TX) revealed some of the information Congress received concerning those UFOs in U.s. airspace.
So while the Biden administration offers little besides vague updates, Crenshaw hops on Twitter and reveals the following:
Everyone wants answers on the objects flying over the United States. Today Members of Congress finally got more info from senior military officials.

Here's what we found out:

— Dan Crenshaw (@DanCrenshawTX) February 14, 2023
To be specific, Crenshaw first said the military classified these objects as "unidentified aerial phenomena" (UAPs), a term which has frequently been used in past decades to officially designate UFOs.
The Texas Republican, a former Navy SEAL, confirmed that we knew what the Chinese spy balloon was, and they took measures to stop any data from returning to China.
As for two other UAPs, they were "smaller, the size of an ATV, and harder to detect." The third "resembled a balloon and was easier for the radar to pick up," and all three "moved with wind currents."
The UAPs were in FAA commercial zones and had no signals or navigation lights.

The first two UAPs were smaller, the size of an ATV, and harder to detect. The third resembled a balloon, and was easier for the radar to pick up.

All moved with wind currents.

— Dan Crenshaw (@DanCrenshawTX) February 14, 2023
Many citizens want to know why they're all being detected now, and Crenshaw said he believes it's because there is simply more surveillance these days.
This results in more unidentified objects, and once they fly over Department of Defense facilities they're deemed as posing a threat — at that point, they're shot down.
On top of that, Crenshaw confirmed that such UAPs weren't commonly detected before "because our radars were not adjusted for slow-moving objects," which these UFOs apparently were.
However, despite this, the GOP member said a lot more investigation is required:
There's obviously still a lot we don't know.

I'm going to continue pushing for transparency so Americans know what's going on in the skies above their country.
When the first balloon was spotted, many Americans were furious. They wanted to know why our government allowed the balloon to traverse the country and enter sensitive airspace areas.
When it was finally shot down, some critics and lawmakers said it was far too late.
And now we've got three more – and potentially others – that we have very little information about. Thanks to Crenshaw, we know a bit more about what they looked like and how they acted, but that's it.
This is why he and many others in D.C. are pushing for real answers.
Key Takeaways:
Rep. Dan Crenshaw (R-TX) provided details on the UFOs – or UAPs – after a Congress briefing.
Several of the objects were about the size of an ATV and "harder to detect," and we're seeing more of them thanks to upgrades in radar and tech.
Crenshaw finished by saying there's "still a lot we don't know" and promised to "push for transparency."
Source: Fox News