Texas Sheriff Uncovers Biden's Use Of The National Guard – At The Border, He Claims Joe Is Making Them Pick Up Trash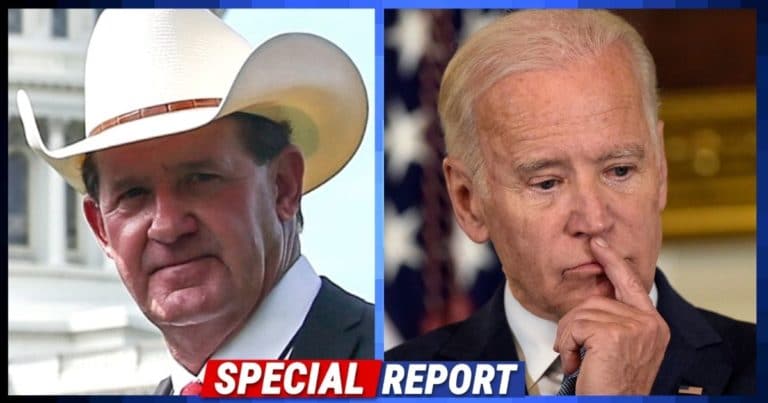 What's Happening:
Despite a lack of coverage by the MSM, the border is in no better shape than it was a few weeks ago.
From all appearances, it is only getting worse.
Biden and his broken administration deny what is going on. The top staff do nothing and won't even discuss it.
After getting a fleeting glimpse of the border, the media has heard very little in months.
But one Texas sheriff is blowing the whistle on what Biden is doing. This is how Joe is using our National Guard.
From Western Journal:
Jackson County Sheriff Andy Louderback slammed the Biden administration on "Fox and Friends" Sunday for the open border policies that have reportedly forced Texas National Guard troops to clean up trash left at the southern border by migrants…

"We find these places littered completely with trash. And on the border, it's an incredible amount of tonage of clothing and trash and water bottles, backpacks, you know, just the entire scene is just littered with things."
Instead of defending our border, preventing people from crossing the border, Joe Biden is forcing our National Guard to clean up the garbage left by invaders.
Sheriff Andy Louderback is calling out Biden's failures due to his open border policy. Because Biden removed any policies that protected our border, migrants are marching over like they own the place.
And they are leaving behind in their wake apparently "tons" of trash, including water bottles, clothing, diapers, and other litter.
Wow, Joe. You really know how to spruce a country up.
Under Trump, we had a clean, controlled border with a big, beautiful wall.
Under Biden, our border is overrun and covered in garbage.
Biden apparently wants to turn the entire country into trash-covered San Francisco.
Isn't this idiot an environmentalist? Doesn't he care that these migrants are trampling our country, leaving it filthy?
But I guess the environment takes a backseat to opening up the border, huh? Joe also didn't care how many migrants were coming in infected.
Do you think the National Guard should be picking up trash at the border?
Key Takeaways:
A Texas sheriff claims that the National Guard is cleaning up trash on the border.
The hundreds of thousands of migrants have left "tons" of trash in their wake.
Biden continues to ignore the crisis, as matters only get worse.
Source: The Western Journal