Texas Just Sued 4 States In The Supreme Court – The Lone Star State Is Trying To Throw 2020 Election To The House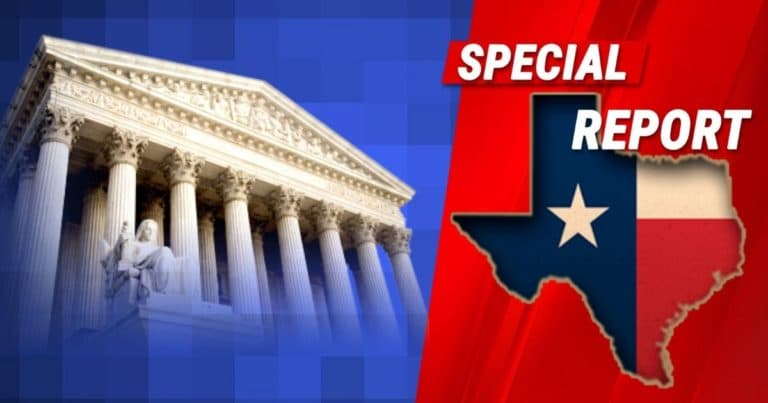 In the eyes of many, the presidential election is over. Democrats and much of the media will also claim it was a fair and accurate election.
President Donald Trump disagrees, however. And so do a large number of Republicans and Conservatives who question the results.
This includes the Attorney General of Texas, Ken Paxton.
Paxton's office just announced a major move, too: they're suing 4 states in the U.S. Supreme Court, and this could be a very big deal.
Texas claims the 4 states – Georgia, Michigan, Pennsylvania and Wisconsin – used the pandemic to ignore existing laws.
And this might have a significant impact, depending on what the court decides.
Paxton and the state are suing for the following reason (via Fox News):
'…for allegedly exploiting 'the COVID-19 pandemic to justify ignoring federal and state election laws and unlawfully enacting last-minute changes, thus skewing the results of the 2020 General Election.'
In a statement, Paxton said the four states in question "compromised the security and integrity of the 2020 election."
Essentially, the AG is claiming the states he's suing failed to follow the law.
And if Texas succeeds in their case, this seems to be the outcome they are aiming for:
Without Defendant States' combined 72 electoral votes, President Trump presumably has 232 electoral votes, and former Vice President Biden presumably has 234. Thus, Defendant States' electors will determine the outcome of the election. Alternatively, if Defendant States are unable to certify 37 or more electors, neither candidate will have a majority in the Electoral College, in which case the election would devolve to the U.S. House of Representatives under the Twelfth Amendment to the U.S. Constitution.
So if they get these key states thrown out because of their claim that laws were ignored or unlawfully changed, it could result in neither candidate having 270 electoral college votes.
Then the vote would presumably go to the House, where each state legislature would get one vote, and Republicans hold approximately a 3-2 advantage.
Thus far, most court cases brought by Trump's legal team have been dismissed or rejected.
But this is a separate case spearheaded by Texas, and the highest court in the land is involved.
There's no knowing exactly what could happen based on the Supreme Court's ruling, or if it could affect the election results.
Even so, it's certainly a statement. Texas wants to make it clear that election integrity is a top priority for the nation.
Key Takeaways:
Texas has sued Georgia, Michigan, Pennsylvania and Wisconsin for "ignoring state and federal election laws."
The lawsuit alleges that the states exploited the pandemic to violate the existing laws.
It claims the states violated the Electors Clause, and the Supreme Court's decision may or may not impact the election results.
Source: Daily Wire