After Liberals Try To Change Thanksgiving Name – Trump Makes A Vow At Florida Rally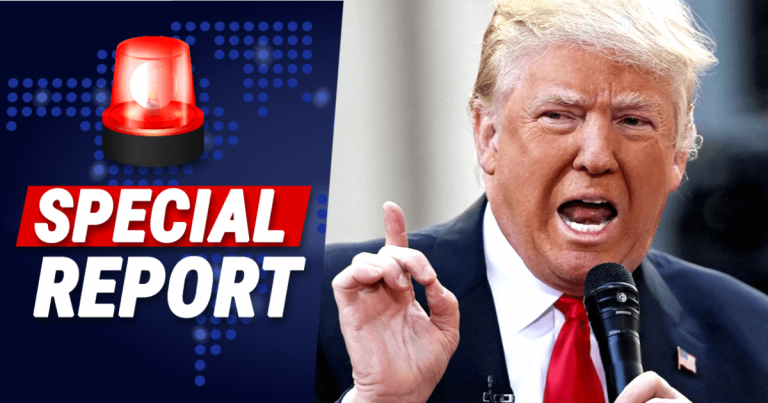 Donald can't stand it – so he's making a big stand!
America is built on traditions—and Trump vows to protect them, no matter what.
The sad reality is, some of our most cherished traditions have come under fire by leftists.
Even the names of our most-important holidays, they tried to change. They changed "Christmas" to "X-mas" and even got people saying "Happy Holidays," instead of "Merry Christmas."
In 2016 Donald Trump vowed to say "Merry Christmas." And guess what? Millions of people followed him.
Now, he's calling out attempts by the left to change the name of Thanksgiving. He's having none of it.
From Fox News:
President Trump told supporters at a rally held in Sunrise, Fla., Tuesday that he wouldn't allow the "radical left" to change the name of Thanksgiving…

"As we gather together for Thanksgiving, you know, some people want to change the name Thanksgiving," Trump began Tuesday night…

"People have different ideas. Why it shouldn't be called Thanksgiving. But everybody in this room, I know, loves the name Thanksgiving. And we're not changing."
Boom! During a rally in Florida, President Trump called out leftists who want to change the name of Thanksgiving. He said—point-blank—we're not changing it.
Next to Christmas, Thanksgiving is one of the most-maligned holidays by the Left.
Liberals, instead of celebrating the story of the pilgrims and Indians, slander our forefathers. They focus on the conflict that came about later in our history, rather than the moment of thanksgiving among different people.
They don't want Americans to stop, just for a day, and thank God for what they have.
Some even change the name personally to "Friendsgiving." Ugh, that makes me want to throw up.
There are those far-leftists who even want to tarnish the day entirely, calling it the National Day of Mourning. I. Don't. Think. So.
It's Thanksgiving, folks! And no trendy gimmick or left-wing agenda is going to change that.
Tomorrow, when you sit down in front of a nice big turkey, make sure you express your thanks.
And follow our president's footsteps and call it "Thanksgiving." Now and forever.
SHARE if you stand with the president in protecting Thanksgiving!
Source: Fox News