Thin Blue Line Flag Just Got Banned – Big Blue City Claims "Extremist Groups" Hijacked the Symbol in Liberal Los Angeles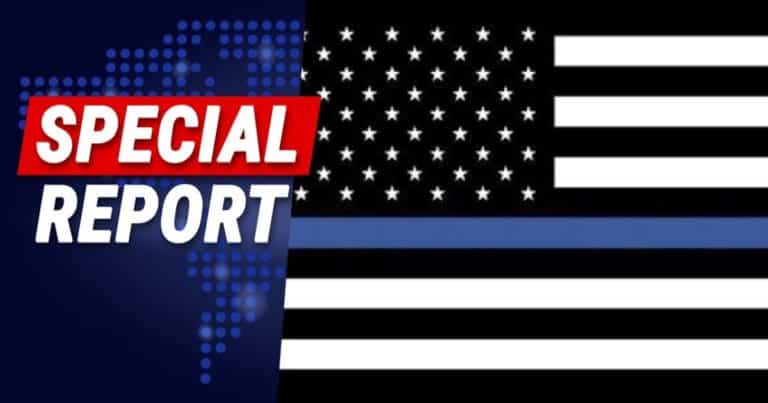 In recent years, many Americans have been concerned about the rising disrespect of law enforcement officers. And police departments have reported difficulty in recruiting, and early retirements.
The Thin Blue Line flag is supposed to be a symbol of support — and for most, it is. However, one of the biggest departments in the country just banned it.
After the George Floyd incident, the mainstream media and many Democratic leaders appeared to push for major police reform. "Defund the Police" became a far-left rallying cry.
To push back against this anti-law enforcement trend, many citizens tried to show their unwavering support of our police officers.
That's when the Thin Blue Line flag began to get more attention and started to circulate among proud Americans who respected the profession. That was the entire point of flying that flag.
And yet, the LAPD has now banned it.
From The Blaze:
The Los Angeles Police Department banned the Thin Blue Line flag because it now allegedly symbolizes 'undemocratic, racist, and bigoted views' held by extremist groups.

The Thin Blue Line symbol is a pro-police emblem that is said to represent the thin line between order and lawlessness in society that is maintained by law enforcement who wear blue uniforms.
LAPD Chief Michel Moore sent an email to department personnel last week, saying the flag will be removed from public areas of police property.
Why? According to Moore, he claims The Thin Blue Line has been "hijacked" by "extremist groups," and he got a complaint about the flag being in the police station lobby.
That complaint said the flag "symbolized support for violent extremist views, such as those represented by The Proud Boys and others." Of course, that isn't how the majority of America views the flag at all.
And yet, it would seem this country only cares about what an extremely vocal minority says. And it's even more unfortunate that a police chief would bow to that pressure.
Ironically, Moore claimed the police station should be "free of political ideology" — most would say the Thin Blue Line flag has nothing whatsoever to do with politics.
The board of directors for the L.A. Police Protective League slammed the ban, and accused Moore of "political pandering:"
It is difficult to express the level of utter disgust and disappointment with Chief Moore's politically pandering directive to remove Thin Blue Line flags and memorials for fallen officers from all public areas within our police stations.

This direction came as a result of complaints from anti-police, criminal apologists, and activists who hold too much sway over our city leaders and, unfortunately, our Chief.
The union added that the ban is "disrespectful and defeatist" and they have "directly expressed our outrage to the Chief."
In their view, the flag is a symbol of unity and explained that the flag represents nothing political. They also said that to many, it's a memorial to law enforcement officers who have died in the line of duty.
It's hardly surprising that the flag was banned in the Democrat-dominated state of California, but we've also seen it banned in other parts of the country as well.
As usual, it seems to millions of Americans that something decent has once again been twisted by a hostile minority that searches for reasons to be angry and "oppressed" every second of the day.
Key Takeaways:
The LAPD banned the Thin Blue Line flag, claiming it had been "hijacked" by "extremists."
The L.A. Police Protective League ripped the decision, calling it "political pandering."
Most don't see the flag as a political statement, and what it stands for isn't political: it's designed to be a symbol of unity and support.
Source: The Blaze