Tim Allen Sends Pamela Anderson Spinning – The Home Improvement Star Fires Back, Claims She Has a "Weird Memory"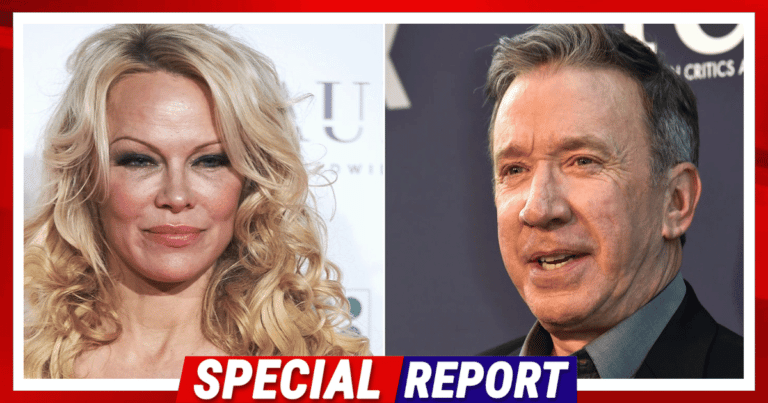 What's Happening:
Among all the weirdos and liberals of Hollywood, it's rare that we find an entertainer that shares Americans' values. Tim Allen is one of those entertainers. For decades, he has delighted families with his fun, hilarious, and family-friendly content. Not to mention the fact he has long taken potshots at liberals like Hillary Clinton!
But recently, former actress Pam Anderson claimed Allen flashed her on the set of Home Improvement. She told the story in her upcoming book, a supposed memoir of her time in show business. Allen immediately denied the allegation and fired back with a withering rebuke.
From The Western Journal:
"No, it never happened," Allen told Fox News Digital through a representative. "I would never do such a thing." […]

"She has a weird memory," Allen told Thayer. "She was a great coworker, I'll tell you that. She's a fun girl.

"Everybody loved her, but ABC is a little disappointed in her … memory, put it that way."

After denying the story, Tim Allen suggested that Anderson might not be recalling events as they really happened. She said she "has a weird memory" and that ABIC is "disappointed in her memory."
Does that mean Allen is accusing her of lying? The actor is known for being a class act, so perhaps he is stopping short of maligning the woman (even though she had no problem maligning him). This might be his careful way of saying that either she made the story up or Anderson's wild lifestyle has left her memory less than reliable.
It seems Anderson's memoirs are full of scandalous stories about her time as a Playboy model and actress. She takes shots all many Hollywood icons, not just Allen. It seems she is more interested in selling books, than getting the details right.
Could she be confusing Allen with someone else? Or is she trying to spice up her book by mentioning famous people she's worked with over the years? We don't know for sure. But keep in mind this alleged event would have taken place almost 30 years ago.
A lot has happened since then. Is it possible that this story is less than truthful? At a time when some people in our society fly off the handle at the very hint of indecency, it is irresponsible of anyone to make accusations that cannot be verified.
But, at least she'll sell a few more books…
Key Takeaways:
Tim Allen responded to Pam Anderson's accusations from her memoir.
Allen said Anderson has "a weird memory."
The actor could be suggesting Anderson does not accurately remember events.
Source: The Western Journal