Trump Rocks America in Final Midterm Rally – Donald Hammers Nancy Pelosi, Then He Stumps for DeSantis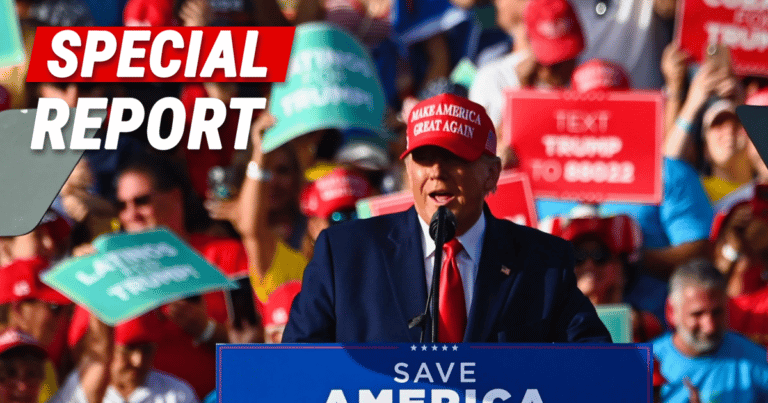 What's Happening:
Donald Trump was busy during the weekend before the 2022 Midterms. True to his word, he has been working overtime–not for his re-election campaign–but to ensure Republicans ride a red wave this November.
Trump took a trip down to Miami, where polling suggests Republicans will do very well. He stumped for rockstar Gov. DeSantis, taking a moment to hammer outgoing Speaker Nancy Pelosi.
From Biz Pac Review:
"When they say policy, the policy is very simple," he suggested mere moments into a nearly two-hour speech. "It's called America First. Up and down the ballot Republican and we're going to end crazy Nancy Pelosi's political career once and for all. Once and for all." […]

Trump continued but took pause as chants of "Lock her up" spread throughout the crowd, something often heard when mentioning former Secretary of State Hillary Clinton.
Despite claims of a rift between Trump and DeSantis, the 45th president strongly endorsed Ron's re-election as Florida governor.
From The Right Scoop:
He didn't say much about America's most important and effective governor, but he didn't bash him. The crowd, though, made their feelings abundantly clear when Donald Trump said that in two days they get to re-elect Gov. Ron DeSantis…

On Sunday he encouraged voters to reelect DeSantis, without any nickname, and the crowd — like pretty much everyone in Florida that doesn't work for MSNBC — was BIG TIME into that.
The liberal media has been trying to make much of a moment recently when Trump called Gov. DeSantis "DeSanctimonious" during a rally in Pennsylvania. According to a video, the crowd appeared not to react to the nickname. (Some users online claim the video was doctored, but this is unclear.)
However, days later, Trump was encouraging Florida voters to re-elect DeSantis, who enjoys surging support in the state (and around the country). Even California Gov. Gavin Newsom fears DeSantis and has spent large sums of cash to dethrone him.
It's unlikely there is any feud between Trump and DeSantis. Some within the MSM would like to manufacture one, believing DeSantis will run in 2024. The governor has not announced 2024 plans and there is no evidence of a feud, outside of media speculation.
Regardless, Trump continued to bring out large crowds and muster enthusiasm for the critical elections this week. Democrats like Obama flailed at the same time, trying to bolster candidates who have shrinking chances of winning.
Key Takeaways:
Trump endorsed Ron DeSantis for re-election as Florida governor at a rally in Miami.
He blasted Nancy Pelosi as the crowd chanted "Lock her up!"
The media is pushing a feud between Trump and DeSantis, over speculation of the governor's possible 2024 plans.
Source: Biz Pac Review, The Right Scoop