After Trump Predicts 2024 Faceoff With DeSantis – The Florida Governor Admits He Will Not Run For President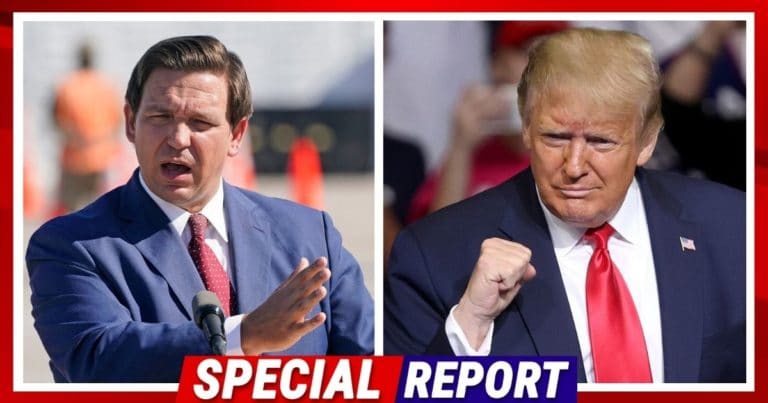 What's Happening:
Americans are still on the edges of their seats, wondering if Trump is going to run again in 2024. While we are getting good signs from 45 and his team, campaign laws prevent him from making an announcement this year.
But people continue to speculate how the 2024 Republican primaries will turn out. Some wonder what will happen if Florida Governor and conservative star, Ron DeSantis, jumps into the fray. Trump gave his own thoughts on it.
From Fox News:
Less than a week before he returns to the state that kicks off the race for the White House, former President Trump says in a new interview that if he runs again for president, most other Republicans would "drop out."

But if Florida Gov. Ron DeSantis, whose standing among conservatives has skyrocketed over the past year and a half, also makes a bid for the 2024 GOP nomination, Trump emphasizes, "I'd beat him."
Before the rhetoric starts to fly, DeSantis set the record straight.
From Yahoo News:
"I'm not considering anything beyond doing my job. We got a lot of stuff going on in Florida. I'm going to be running for reelection next year," DeSantis said in reply to Hannity's question on whether he was considering a presidential run.
Ron DeSantis made it clear that he will not be running for president. In fact, he said that he will be running for reelection in 2022, assuring Floridians that he was in it for the long haul. That hasn't stopped people from speculating what if.
Donald Trump said he'd beat DeSantis if he ran against him. That doesn't suggest there's much of a feud between the two Republicans. Trump currently lives in Florida and DeSantis is a known ally of the 45th president. If DeSantis did want to run for president, he might bow out in 2024, out of respect for Trump.
Plenty of people have wondered who else would run in 2024, if Trump announced a candidacy. Some eyes are on Mike Pence, who has become more active since leaving office. Many speculate he is preparing for a primary run in 2024.
Trump believes that most Republicans would "drop out" if he decided to come back for another go. That is pretty likely. In 2020, a few little-known Republicans tried to challenge Trump's bid for the Republican nomination. They did not do well.
Key Takeaways:
Donald Trump revealed he would "beat" Ron DeSantis if he ran against him.
The Florida governor announced he wasn't running for president, but reelection.
Americans are still waiting to see if Trump announced a third presidential campaign.
Source: Yahoo News, Fox News