Trump Makes 2020 Predictions For AOC, Pelosi And Nadler – Far Left Democrats Might Turn On Their Leaders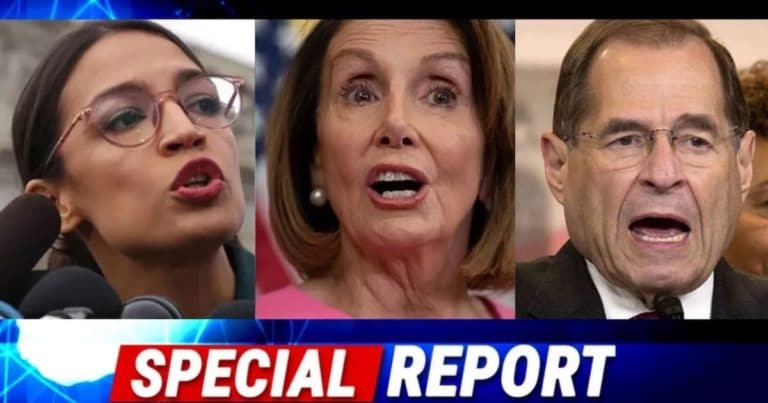 Donald Trump isn't afraid to speak his mind.
And after his exoneration last week, the President appears to be even more opinionated.
He jumped on Twitter to make some 2020 predictions for a few of the biggest names in politics.
Trump didn't hold back, either:
He dropped predictions for House Speaker Nancy Pelosi, freshman Congresswoman Alexandria Ocasio-Cortez, House Judiciary Committee Chairman Jerry Nadler, and Senate Minority leader Chuck Schumer.
And a few of those predictions might surprise you!
Check it out: Trump predicted that AOC would primary – and beat – Chuck Schumer.
In the same Tweet, he said Nadler "has a good chance of losing." He also said Pelosi will lose the House: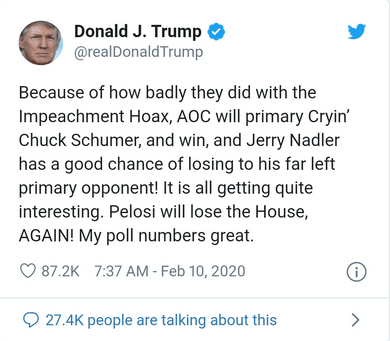 Because of how badly they did with the Impeachment Hoax, AOC will primary Cryin' Chuck Schumer, and win, and Jerry Nadler has a good chance of losing to his far left primary opponent!

It is all getting quite interesting.

Pelosi will lose the House, AGAIN. My poll numbers are great.
That's right, Donald sees Schumer falling to AOC, and Nadler going down as well!
Trump clearly believes the far-left candidates are more popular, and Democrats in this country are following the party farther left.
That's probably true … and definitely scary.
As for Trump's numbers, Donald added this Tweet — and took another dig at Pelosi: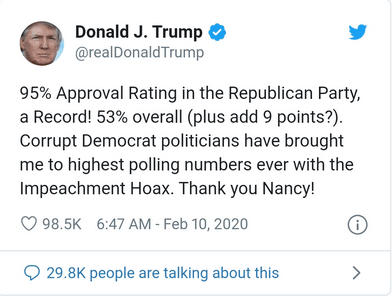 95% Approval Rating in the Republican Party, a Record! 53% overall (plus add 9 points?).

Corrupt Democrat politicians have brought me to highest polling numbers ever with the Impeachment Hoax.

Thank you Nancy!
Wouldn't it be great if Schumer, Nadler, and Pelosi ALL went down this year?
But I'm not sure if I'd like to see AOC take out Schumer, because that could spell bad news for the entire country…
Either way, Trump's predictions are in and you know, this guy isn't often wrong when it comes to election predictions.
And as for his numbers, well, what can I say but: Trump 2020 landslide victory!
SHARE if you think Donald Trump's predictions here are right on!
Source: The Daily Wire