Trump Finally Gets Biden To Do His Job – After Donald Warns About The Border, DHS Chief Mayorkas Starts Deporting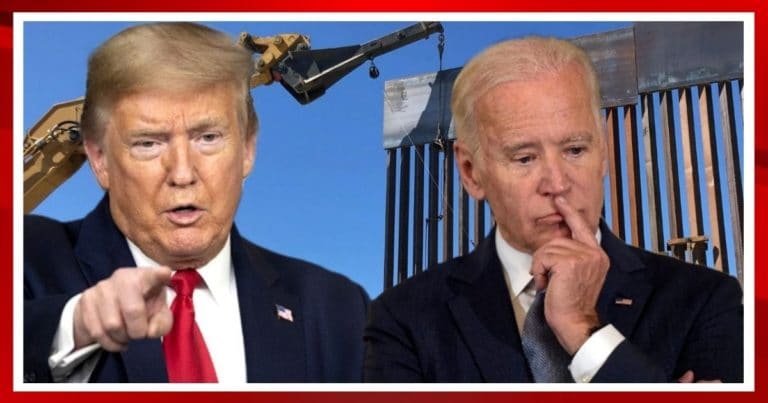 What's Happening:
At the start of this year, conservative leaders and honest news outlets warned about the border crisis. Joe Biden deliberately removed rules that kept our border under control. Now, although the MSM ignores it, things are only getting worse.
Ted Cruz and others revealed that thousands of Haitian migrants were hiding out under a bridge. They, like all the other migrants, were expecting the U.S. to roll out the red carpet. Biden's administration, who was convinced we didn't need a wall, is now struggling to restore order.
From Fox News:
Alejandro Mayorkas, the head of the Department of Homeland Security, warned Haitian migrants against attempting a voyage to the US as more 12,000 migrants were camped around a bridge in Del Rio, Texas…

Starting Wednesday, there will be seven expulsion flights daily to Port-au-Prince and to Cap-Haitien, the Associated Press reported, citing a U.S. official who was not authorized to discuss the matter publicly.
We'll see how that goes. Biden all but invited these strangers into the U.S. They won't be very happy to be told to go home (even with free, taxpayer-funded flights).
Now, President Trump is reminding everyone just whose fault this crisis is.
From Twitter:
NEW!

President Trump:

"The largest number of illegal aliens in the history of our Country are pouring in by the millions. They are totally unchecked and unvetted, can do whatever they want, and go wherever they want. Our Country is rapidly becoming a cesspool of humanity. pic.twitter.com/XkYJ7VWXdL

— Liz Harrington (@realLizUSA) September 19, 2021
Trump blasted Biden for his failed border policy. He lamented that millions are coming to our country, unvetted and unchecked. He said more are coming from Africa and Haiti than South America. He highlighted the crisis under the Rio bridge, as well as the many "murderers, drug dealers, and criminals" getting free rein.
Biden is struggling to get control over this situation. That's because for months he was doing nothing. Many Republicans accused him of wanting this crisis in the first place. That might explain why he picked Kamala Harris to "fix" it (of course, we haven't seen her deal with this since the Spring).
Mayorkas is scrambling to deal with just one part of the crisis, the Haitian migrants under the bridge. That's only because Fox News' drone footage and Cruz's videos humiliated the administration. But what about all the other migrants flooding into the country?
When is Biden going to admit that Trump was right? When are we going to see his old rules restored and the wall go up?
You might say it will be a cold day in Hell, but Biden might soon have no choice.
Key Takeaways:
Trump blasted Biden over the increasing border crisis along the Southern border.
This comes as 12,000 Haitians were discovered under the Rio bridge.
The administration is scrambling as "millions" flood the border.
Source: Fox News, Fox News, Twitter