Trump Just Topped Both Biden And Harris – They Don't Stand A Chance Against Donald In The 2024 Election According To Poll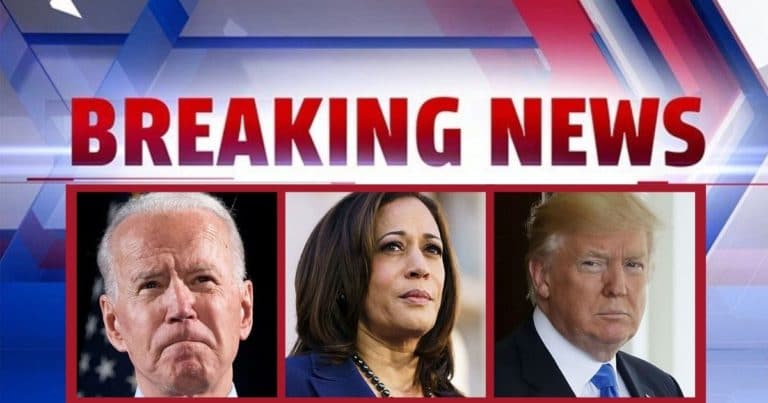 What's Happening:
As Americans watch Joe Biden stumble around the White House, they are clamoring for a return. We've seen just how terrible Democrats are at running the country. And with an idiot like Joe Biden "in charge" there doesn't seem to be a bottom to how far we fall.
More than a few Americans can't wait for 2024 to come.
There has been plenty of speculation on whether Joe Biden will be fit enough to run again. Some believe he'll be long gone, or will choose not to run. There is a possibility that either Biden or Kamala Harris will be leading the left's ticket in that election.
But regardless of which one it is, most Americans have already decided who they're voting for.
From Rasmussen Reports:
A new Rasmussen Reports national telephone and online survey finds that 48% of Likely U.S. Voters think it would be a good idea for Trump to run for president again in 2024.
Here's some stunning poll numbers, via the Washington Examiner:
The latest Rasmussen Reports survey set for release this morning said that in a Trump-Biden election, Trump would win 51%-41%. Independent voters would overwhelmingly choose the Republican, by 20 points, over the incumbent.

Against Harris, Trump would win 52%-39%.
A new poll from Rasmussen reveals that most Americans would pick Donald Trump over Joe Biden or Kamala Harris in 2024—and by shockingly wide margins right now.
That's some bad news for a Democratic establishment that banked on being "better" than Donald Trump. I don't know why they thought that. Donald Trump's leadership produced record-low unemployment. Jobs were flooding back into the country not out. And he even scored peace deals in the Middle East.
Oh, and he didn't get us entangled in new overseas wars.
Joe Biden hasn't even been president for a year and he's reversed just about every good thing Trump did. Biden has been such a failure, that he got the French ambassador to leave, something that's never happened before.
Thousands of migrants have flooded our country, including 10,000+ Haitians. How does that even happen? Some of these migrants refuse to be deported, hijacking buses and biting pilots (literally). Meanwhile, Biden mumbles during press releases and his handlers don't let him take questions.
Why wouldn't Americans want back a man who worked around the clock to make their lives better? A president who battled the crooked establishment, ridiculed the biased press, and held foreign nations accountable?
Don't be surprised if these numbers go up in the coming months/years.
Key Takeaways:
A new poll revealed voters want Trump back in 2024.
Regardless of whether Biden or Harris ran, Trump would beat them.
This comes as the Biden administration fails on nearly every front.
Source: Rasmussen Reports, Washington Examiner