Donald Trump Just Released A New Book – His First Post-White House Book Is Titled 'Our Journey Together'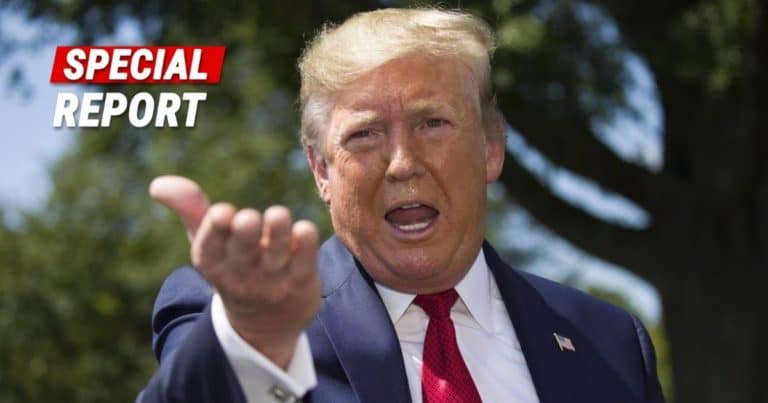 What's Happening:
The Democrats have done everything they could to erase Trump's name from our history. But, try as they might, they keep failing. They tried to impeach him, so he couldn't run again. That failed. They blacklisted him from social media to prevent him from reaching Americans. That also failed.
But you might not know that even the publishing industry has tried to ban Trump. It has released a seemingly unending parade of hit books "exposing" Trump and his administration. The left-leaning publishing world refuses to portray the 45th president in a positive light.
Yet, as you can imagine, they've also failed. From The Washington Examiner:
Former President Donald Trump today shocked the publishing world that has tried to cancel his administration by revealing that he is releasing his first post-White House book in December, titled Our Journey Together.

The huge book, printed in America, is a coffee table style collection of photographs that the former president selected himself. He even wrote the captions, offering praise and scorn where he felt it was needed.
Just in time for Christmas, Trump revealed that he's published a large photo book of images from his first term in office. Entitled "Our Journey Together," the book features photographs from the Trump administration, with captions written by Trump himself.
The title of the book is significant. It once again affirms that Trump's America First movement was never about him. The left has tried to brandish his presidency as a self-centered quest for glory. But Trump always made it clear, he was working for everyday Americans.
Despite an apparent ban by the publishing industry, the book is being released this year on December 7th. It is being published by "Winning Team Publishing," a company formed by Donald Trump Jr. himself. Of course, it is being printed in the United States.
This is a brilliant move by Donald Trump. Millions of Americans will be eager to purchase this book as a way to celebrate the Trump administration—and to look forward to the future. And it will be a fantastic way to trigger those liberal family members this holiday season.
Key Takeaways:
Trump surprised America with the announcement of his new book "Our Journey Together."
The coffee table book will feature exclusive photographs of the Trump administration.
The photos will be captioned by Trump himself; the book will be released on December 7.
Source: The Washington Examiner