Trump Ditches "Boring" Democrat Debates – Instead Makes Unplanned Visit With Air Force One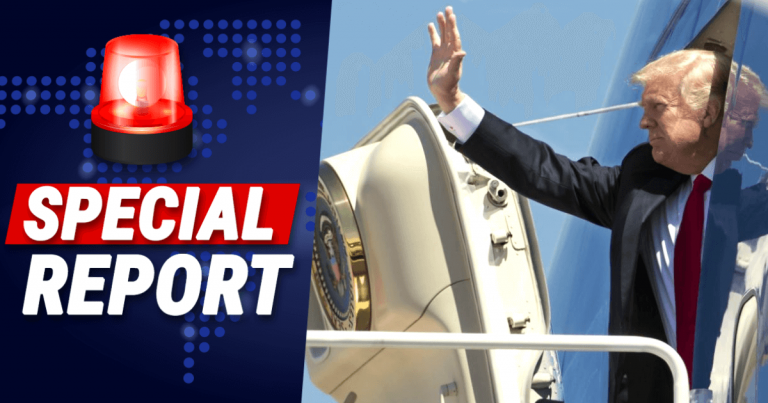 Donald knocked the Democrats hard, then flew up north to see some real American stars.
President Donald Trump had just one word to describe the Democrat primary debates last night:
"BORING!"
But he probably knew they were going to be boring, which is why he didn't bother watching in the first place.
No, our Commander-in-Chief instead decided to make an important visit…
Trump is on his way to Japan for the G20 Summit but on the way, he dropped in to pay tribute to America's heroes in Anchorage, Alaska.
Air Force One touched down to a crowd of appreciative troops at Joint Base Elmendorf-Richardson.
From The Daily Caller:
"While approaching the troops, Trump noted that the debate had just started, but indicated that he chose to spend time with the military members, rather than watching the beginning of the debate on his plane."

"And I had my choice between you and them and I chose you," the president told the troops, according to the White House print pool."
Just stopped in Alaska and said hello to our GREAT troops! pic.twitter.com/oLYn1mpaVm

— Donald J. Trump (@realDonaldTrump) June 27, 2019
That's just perfect!
And when Trump was asked how he expected the debate to go, he had the perfect response:
"I think they all are going to do very poorly."
That sounds about right. After all, Democrats have been performing poorly overall for decades.
Ten Democratic presidential candidates clashed on Wednesday night and initially, Trump had planned to Tweet during the event.
But he obviously decided against it, and opted to spend the time with this country's bravest and brightest.
And besides, MSNBC flubbed the event, anyway, as Trump comically highlighted:
Thank you @MSNBC, real professionals! @chucktodd @maddow pic.twitter.com/7ZCkcUQ4yA

— Donald J. Trump (@realDonaldTrump) June 27, 2019
Why go to a boring Democrat debate where they can't even keep the lights on—when you can say "thank you" to our heroes?
Besides, Trump isn't concerned about his opposition come 2020, and he never misses an opportunity to honor those who serve America.
SHARE if you think Trump is the most patriotic President we've ever had!
Source: The Daily Caller