Democrats Snubbed In 9th Circuit Swap – Trump Drops His California Hammer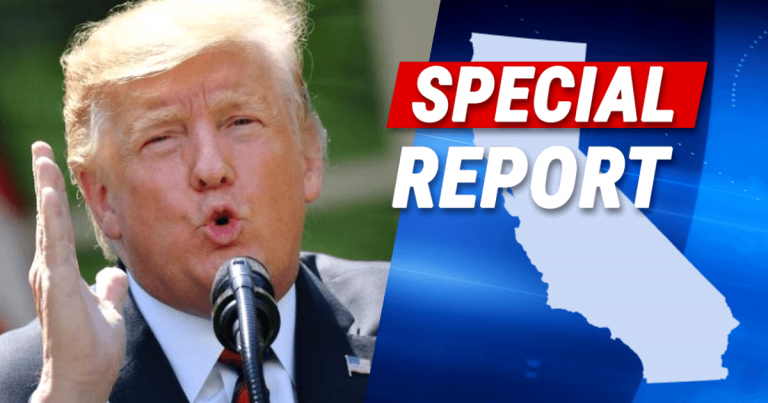 While Democrats wasted their time on impeachment, Trump just took them to school.
For years, the Democrats tried to turn the United States into a socialist paradise. They weren't counting on you, the voters, to let them.
No, they took a dark route to reach their dreams, exploiting a force we have little control over: the courts.
And for years, it worked. With liberal courts in their back pocket, Americans had little chance at stopping Democrats from steamrolling over our rights and the Constitution.
But Trump has torn down their scheme—even as they were distracted by impeachment.
Now, with a few recent appointments, one last bastion of left-wing progressive is being transformed.
From Politico:
The Senate confirmation of Lawrence VanDyke and Patrick Bumatay to the 9th U.S. Circuit Court of Appeals this month brought to nine the number of appointments President Donald Trump has made to the 29-member bench that serves as the last stop for nearly all legal complaints lodged in nine Western states. Democratic-appointed judges now hold a three-seat majority, compared with 11 at the start of Trump's presidency.

If the trend continues, it represents a major shift in the liberal wing of the judiciary, meaning lawsuits for progressive causes won't find a friendly ear as easily as they have.
Boom! President Trump just got two more judges on the once-radical 9th Circuit Court of Appeals.
This is the San Francisco court that takes major cases from mostly liberal states. Their progressive judges have forced liberal policies onto the entire country.
That's because Obama and past presidents have appointed radical, leftists judges to this court.
But Trump has been upending that trend, big time.
The liberal's majority on the court has shrunk to just three judges. In a few more years, that will be reduced to none.
The 9th Circuit Court once opposed all of Trump's policies. They would block his agenda through flimsy lawsuits.
But more recently, they have upheld Trump's Constitutional decisions.
In a short time, the court will become one of Trump's biggest assets.
And the left will lose their most effective (and un-Constitutional) means of forcing their agenda onto America.
Democrats won't be able to abuse the courts to get their way. No more lawsuits against Christian business owners.
No more attempts to remove the Ten Commandments from government property.
And more courts advocating socialist policies.
To think, Trump was doing this as Democrats were "winning" on impeachment. How hilarious.
SHARE to congratulate Trump for turning the 9th Circuit Court Conservative!
Source: Politico