Trump Taps Into California 'Gold Rush' – And Pelosi's Democrats Can't Stop Him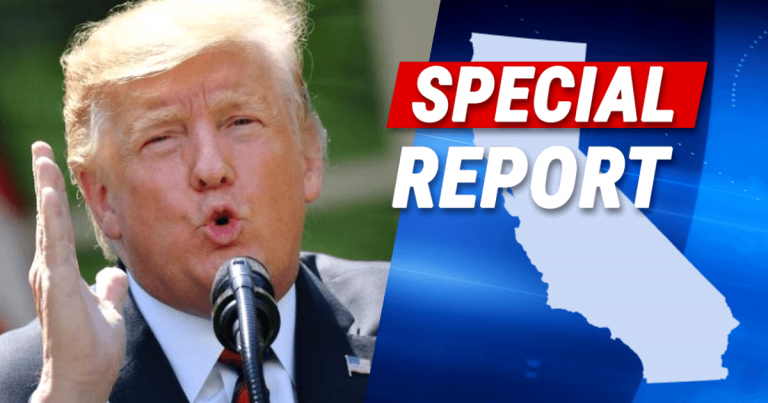 Donald's cashing in – and there's nothing Nancy can do!
Americans are pretty concerned watching liberal-run California goes down the tubes.
The fact is, left-wing Democrats who control the state continue to burden it with high taxes, socialist programs, and sanctuary policies.
But that doesn't mean all is lost for the once Golden State. There are plenty of Republicans still in California. Many of them were in favor of establishment politicians, rivals to Trump during the election.
They kept their pocketbooks shut in 2016 – but after 2 years of success, the gold rush is coming hard and fast!
From Washington Examiner:
President Trump is cashing in on California as establishment-oriented Republican donors initially resistant to his brand of populist nationalism open their checkbooks to keep the White House out of the hands of a liberal Democrat.
Boom! Pelosi thinks she has California all wrapped up. But big pocket Republicans—who stayed largely out of 2016—are writing checks for Donald Trump.
Many of the long-time conservatives in California didn't care for Trump's direct style of communication.
But they couldn't sit back any longer and watch Pelosi and the Democrats run amuck in the House.
And the idea of one of those left-wing losers taking the White House in 2020 was just too much for many of them.
Big pocket Republicans from Los Angeles and Orange County are becoming "cash cows" for the president. New donors from Southern California are getting involved, pumping support into the Trump train.
In fact, one GOP strategist said fundraising from California is performing better as they approach 2020.
Vice President Pence attended a fundraiser in San Diego, hauling in about $500,000.
Who would have thought that California would provide such a windfall for the president? We are used to hearing about how left-wing California is. They even banned plastic straws, for crying out loud!
But there are still some strong conservatives in the state of Ronald Reagan. And they don't want to see the rest of the country go the way of California.
Pelosi's terrible antics in the House are waking up more Americans. Democrats can't even get their own party under control, let alone pass anything to help the country.
So, I say, keep it up Nancy! You just might single-handedly help Trump get re-elected.
SHARE if you are going to be a part of the 2020 Red Wave from California to Maine!
Source: Washington Examiner