Trump Pulls Back Curtain On California, Accuses Them Of Rigging The Next Election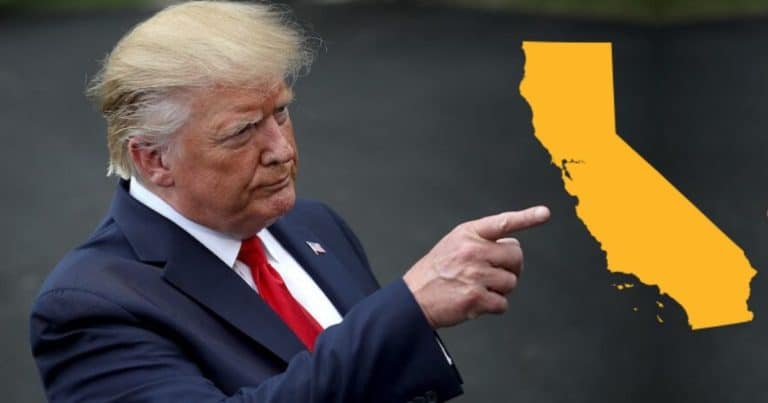 President Trump appears to be increasingly concerned with what California is doing to its electoral process. Like other Democrats, they are using the pandemic to justify mail-in voting.
Along with Nancy Pelosi, California wants Americans to fill out ballots at home. The danger to our election integrity has been pointed out by many.
And now, Trump is calling the scheme as he sees it:
From Twitter:
There is NO WAY (ZERO!) that Mail-In Ballots will be anything less than substantially fraudulent. Mail boxes will be robbed, ballots will be forged & even illegally printed out & fraudulently signed. The Governor of California is sending Ballots to millions of people, anyone…

….living in the state, no matter who they are or how they got there, will get one. That will be followed up with professionals telling all of these people, many of whom have never even thought of voting before, how, and for whom, to vote. This will be a Rigged Election. No way!
President Trump took to Twitter to blast California's attempt to push mail-in voting. He called mail-in ballots "substantially fraudulent."
He laid out just how fraudsters could use the system to manipulate the election. Ballots can be stolen, forged, or printed out and signed.
In fact, Trump said the governor is sending ballots to "millions of people." Including people who might not be eligible to vote.
Trump warned "professionals" would then tell people how and whom to vote for.
Our Take:
It's painfully obvious the danger of mail-in voting or "Voting from Home," as Nance calls it.
The voting process is supposed to be a carefully guarded thing. You have the right to privately go to a booth and cast your vote.
Nobody has to know who you voted for—so that no party can pressure you to vote for their candidate.
Mail-in ballots appear to erode that protection, as Trump warns professionals will try to pressure people how to vote.
That doesn't even begin to address the danger that ballots can be stolen from mailboxes or printed out and forged.
Don't think it won't happen? Have you been paying attention?
Political activists are often caught "bending" the rules to help a candidate. Even if they can't pull this off for a big election, you better believe they'd try it at the local level.
Considering that, why would Trump sit back and let California get away with this? You have to wonder at the legality of mail-in ballots.
Can they even be allowed, without approval from the federal government?
SHARE if you think mail-in voting can be rigged.