Trump Sends Democrats Ohio Debate Present – Donald Is Delivering Them A 105-Foot Banner With Warning For Voters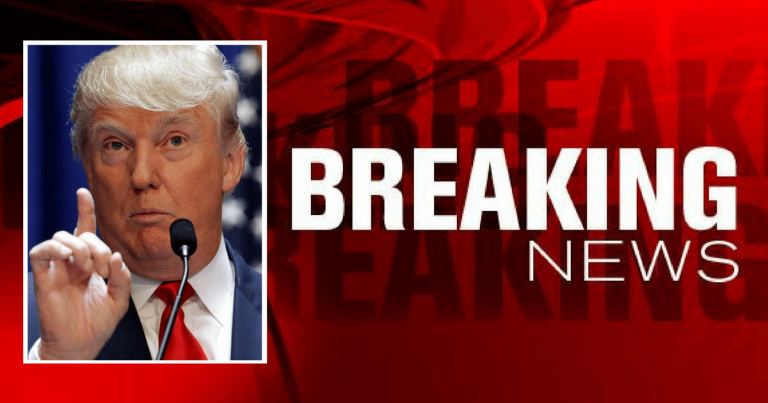 Trump supporters better look up tonight, or they'll miss it!
The 2020 Democrats are returning for another night of misery—I mean—debating.
The field is getting smaller, but it's still too big if you ask me.
Thankfully, as these left-wing Democrats argue over their bad ideas, the president has a surprise for them.
Thanks to record fundraising, he is giving the debate a little gift.
Just when Democrats try to convince Ohio voters to go socialist, Trump is sending Ohioans a present.
From Twitter: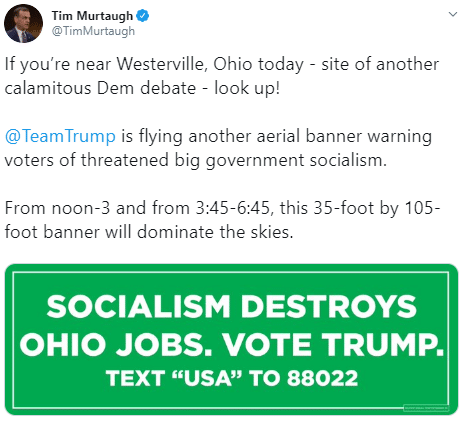 "If you're near Westerville, Ohio today – site of another calamitous Dem debate – look up! @TeamTrump is flying another aerial banner warning voters of threatened big government socialism. From noon-3 and from 3:45-6:45, this 35-foot by 105-foot banner will dominate the skies."
Ouch! I doubt Bernie and Warren will like seeing this banner flying over their debate.
President Trump will remind Ohio voters that the socialism these Democrats want will probably destroy jobs.
That's no secret, too. Countries that have embraced socialism soon enjoyed poverty, famine, and oppression.
Socialism takes away jobs and money from hard-working people and gives it to those who haven't worked for it—and enriches politicians.
This banner is much like ones he's flown over past Democratic debates. He has a knack for exposing the Left's game.
Democrats running for president don't want you to know about socialism's ugly history. They are promising the moon, but we think they will deliver nothing.
But Trump is reminding Ohio—and the rest of us—just what socialism is really about.
2020 Democrats are using socialist programs as a big fat carrot to win votes. They aren't telling you about the stick.
SHARE if you think Trump has just spoiled yet another Democrat debate!
Source: Twitter