Trump Sends Democrats Into DEFCON-1 – Donald Is Making 2024 Swing State Visit For Rally In Iowa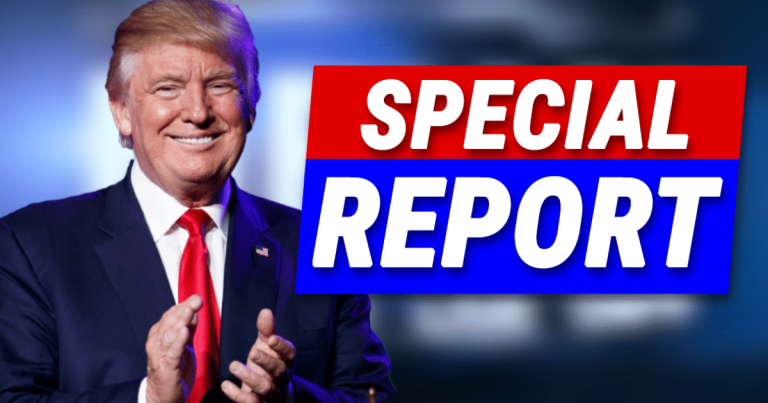 What's Happening:
What are former President Donald Trump's future plans? We know that he vowed to help Republicans retake Congress in 2022.
But beyond that? We are getting more and more evidence that his supporters will be very happy.
We know that he'll be rocking Iowa, a key state in the primaries. And it appears enthusiasm for the event is growing red hot. From KCCI:
The metro is gearing up to host former President Donald Trump this weekend, and it comes as he's gaining more favor with Iowans.

A Medicom/Register poll released this week shows Trump is more popular now in the Hawkeye state than he ever was while in office.
Woah. He is more popular now with Iowa voters—than he was in office. What does that tell you about Trump's growing influence? Even banned from social media, Team Trump is thriving. And Democrats are freaking out.
From The Hill:
Democrats are worried about another White House bid by former President Trump, something that is appearing increasingly likely on the eve of an Iowa rally by the leading potential GOP candidate…

"There's not a strategist or insider that I'm hanging out with who would like to see Donald Trump running again," said Rachel Bitecofer, a Democratic pollster. "Nobody should think he would be a weak nominee."
As Trump prepares for a big rally in Iowa, Democrat strategists are wetting their pants in fear. Liberals are getting more and more worried about Trump returning to politics, running for president in 2024.
Some Democrats claim they are perfectly calm. They think that a "wave" of Democrat voters will show up to keep Trump out of the White House. There's a big problem with that assumption, of course. And his name is Joe Biden.
Trump won record support in 2020, thanks to his historic leadership even during the crisis. Those who picked Biden, did so because they thought he would be a better president. Biden has made sure to prove them wrong this year. And his approval shows that there is not enough support in the DNC to keep him in power.
If Biden goes up against Trump again in 2024, we can be sure it will be a bloodbath. Americans from all walks of life will vote to get the deranged old Democrat out of office. If Biden takes a bow, who are Democrats going to look to? Kamala Harris?
I'd pay money to watch that race unfold!
Don't believe what some liberals are saying. They are watching Trump's support grow among Americans. And they are watching Biden's administration crash and burn, along with the rest of his party. They are terrified. Their only hope is if Trump doesn't run for president.
And that doesn't seem very likely.
Key Takeaways:
Democrats are panicking as it looks more likely that Trump will run in 2024.
Support is growing for Trump in Iowa, who enjoys a higher approval than ever before.
Liberal strategists are worried about what might happen if Trump runs against Biden.