Trump Reveals Why DeSantis Attacks Are Personal – Gives Ron Just 1 Word for Running Against Him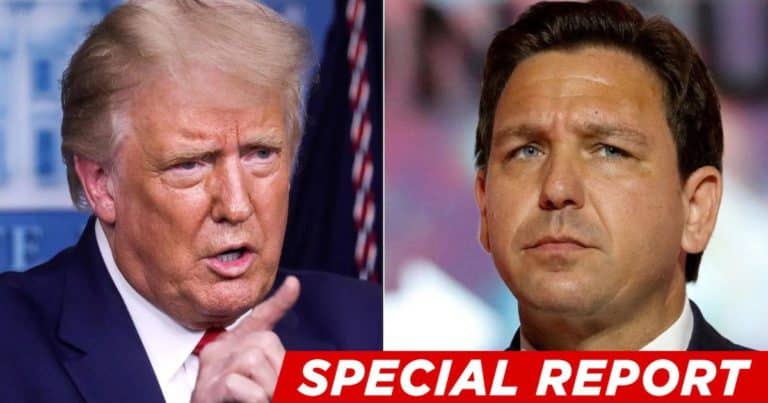 What's Happening:
The 2024 presidential race is getting hotter and in any political contest there is always a war of words. This happens on both sides of the aisle until one person stands alone on center stage.
Republicans face a heated verbal battle between high-profile candidates. The divide between the current top contenders has grown wider and sharp words are getting more personal.
Division among top Republican candidates boils down to feelings of betrayal.
Former President Donald Trump is the front-runner, and he didn't mince words about his expectation of loyalty from his main opponent, Florida Gov. Ron DeSantis.
From Fox News:
"I got him elected," Trump replied. "And I thought it was very disloyal when he said 'Yes, I'd run.' I got him past two races."

"I'm a big loyalist," Trump continued. "Some people right here in this room tell me 'sir don't worry about loyalty, it doesn't mean anything in politics.' I said, to me it does. I got the guy elected."
Trump didn't let up in his interview with Fox. He made it clear that he believes the governor would be working at a law firm if not for the former president stepping in to save DeSantis' 2017 campaign.
Whichever camp voters are in right now, they know that Trump expects a high degree of respect after he helps someone in business or politics. Trump is has also proven that he is not afraid to attack anyone he believes is working against him.
Trump once praised DeSantis and let the world know the fellow patriot should be governor.
From Fox News:
Trump said he decided to "give it a shot" and endorsed DeSantis on Twitter. At the time, Trump called DeSantis a "brilliant young leader" who "loves our country and is a true leader."

"It was like a bomb went off," Trump recalled. "As soon as I endorsed him, he won the primary. It was over. He won by a landslide."
That support created an expectation from Trump that those he helped politically would maintain support for him in return. Trump's response to DeSantis getting into the 2024 race was vocal.
From Fox News:
"Three years later, they asked him are you going to run against the president? He said I have no comment… No comment means he's going to run… I didn't need that," Trump said.
The verbal jabs will likely get tougher and more frequent as Trump faces ongoing legal battles and DeSantis tries to position himself as the top contender against Biden.
We hope this GOP primary battle doesn't damage either candidate into the general election and give Democrats fuel for the fight.
The last thing Republicans need is for two heavyweight contenders to knock each other out and let Biden sleep his way back into the White House.
Key Takeaways:
Former president takes on Florida governor heading into primary election.
Trump expects loyalty after helping DeSantis win the governorship.
GOP contenders must not let war of words help Biden in 2024.
Source: Fox News